Investors who have suffered significant losses due to alleged misconduct in the handling of investments in GWG L Bonds have levied accusations against Ashley Robinson of Cabot Lodge Securities LLC and Madison Avenue Securities LLC. The clients allege a breach of fiduciary duty, violations of Regulation Best Interest, violations of FINRA rules 2010, 2120, 2111.05(a), and 3110, as well as breach of contract and vicarious liability. The clients are seeking damages estimated at $1,157,000.00.
Robinson has been associated with AE Wealth Management LLC since April 2021, and Madison Avenue Securities LLC since April 2021. However, it is essential to note that Robinson was not the registered representative of record on any of the disputed investments.
FINRA's Role in the Dispute
The Financial Industry Regulatory Authority (FINRA) is a non-governmental organization that regulates member brokerage firms and exchange markets in the United States. They are the largest independent regulator for all securities firms doing business in the United States. FINRA's mission is to protect investors by ensuring the broker-dealer industry operates fairly and honestly.
The allegations against Robinson include violations of several FINRA rules, including 2010 (Standards of Commercial Honor and Principles of Trade), 2120 (Fraudulent and Deceptive Acts and Practices), 2111.05(a) (Suitability), and 3110 (Supervision). These rules are designed to protect investors and maintain the integrity of the market.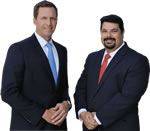 AD - Recover your investment losses! Haselkorn & Thibaut, P.A. is a national law firm that specializes in fighting ONLY on behalf of investors. With a 95% success rate, let us help you recover your investment losses today. Call now 1-888-784-3315 or visit InvestmentFraudLawyers.com to schedule a free consultation and learn how our experience can help you recover your investment losses. No recovery, no fee.
Recovering Losses through FINRA Arbitration
Investors who believe they have been wronged by their brokers or brokerage firms have the option to seek redress through FINRA arbitration. This process is often faster and less expensive than traditional litigation, and it can result in the recovery of losses.
Arbitration involves presenting the case to a panel of arbitrators who listen to both sides, review evidence, and then make a decision. The decision of the arbitrators is final and binding, subject to a limited review by courts. Investors can request compensatory damages, which are monetary awards to reimburse for losses, and punitive damages, which are designed to punish the broker or firm for their actions.
It's important for investors to know that they have rights and options if they suffer losses due to broker misconduct. If you have experienced significant investment losses, you may be entitled to recover your money through FINRA arbitration.
Investors who have been affected by the GWG L Bonds case or similar cases are encouraged to consult with a securities arbitration lawyer to understand their rights and potential avenues for recovery. Remember, every investor has the right to competent, ethical representation and fair treatment in their financial dealings.