A client alleges over-aggressive portfolio management and non-disclosed loan guarantee by broker Andres Herrera at Morgan Stanley, resulting in a dispute worth $2 million.
New York, NY – In a dispute that shook the finance sector, a client of Morgan Stanley, an American multinational investment bank and financial services company, has made serious allegations against his broker, Andres Herrera. The case, filed on March 12, 2023, focuses on the period between February 3, 2020, to April 10, 2020, and entails a whopping $2 million claim.
The client alleges that his portfolio management was excessively aggressive, which goes against the principles of appropriate risk management. The client's dissatisfaction stems from his belief that his broker failed to maintain a prudent and risk-conscious approach toward his investments.
In addition to the aggressive portfolio management, the client further claims that a loan was issued, guaranteed by his portfolio, without informing him about the full details of the amount. This non-disclosure, he alleges, was a significant breach of fiduciary duty and transparency on the part of the broker and the company.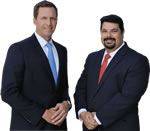 AD - Recover your investment losses! Haselkorn & Thibaut, P.A. is a national law firm that specializes in fighting ONLY on behalf of investors. With a 98% success rate, let us help you recover your investment losses today. Call now 1-888-784-3315 or visit InvestmentFraudLawyers.com to schedule a free consultation and learn how our experience can help you recover your investment losses. No recovery, no fee.
Andres Herrera, the broker involved in the dispute, was employed with UBS Financial Services Inc. before he moved to Morgan Stanley (CRD 149777) on June 26, 2020. He currently holds roles as a broker, and investment advisor and performs miscellaneous other duties at the firm.
While the specifics of the case are yet to unfold, the dispute points to the inherent tension between financial institutions' pursuit of aggressive growth and the importance of maintaining client trust and transparency. This incident also sheds light on the broader industry debate around risk tolerance, client communication, and the extent of disclosure needed in the issuance of loans.
BrokerCheck, the free tool that allows investors to check the background of brokers and investment advisors, reflects no other disputes against Herrera's name. However, this recent dispute and the serious allegations levied against him could potentially impact his standing in the industry.
Morgan Stanley and Herrera are yet to make official comments on the case. How this dispute will impact the company's reputation and client trust, in the long run, remains to be seen.
This case serves as a reminder to investors about the importance of understanding the risk level of their investments and ensuring that clear, honest communication lines exist with their advisors.
Dispute cases such as this one underline the need for increased transparency and open communication in the finance sector. Investors and advisors alike need to heed this wake-up call and ensure that they are aligned not only in their financial goals but also in the level of risk they are willing to undertake.
Stay tuned for more developments on this dispute.
Free AlphaBetaStock's Cheat Sheet (No CC)!
+ Bonus Dividend Stock Picks