Last week saw all major indices recording gains, breaking a six-week stagnation for the S&P 500, which had neither risen nor fallen more than 1.0%. The S&P 500 reached a new closing high for the year on Thursday (4,199) and a new intraday high for the year on Friday (4,212). However, the index failed to sustain a position above 4,200 at the close, a level that has been a significant resistance point since August 2022.
The sustained strong performance of mega-cap stocks contributed to the overall index performance, with more stocks participating in this week's gains compared to previous weeks. The Vanguard Mega Cap Growth ETF (MGK) saw a 2.9% increase, while the Invesco S&P 500 Equal Weight ETF (RSP) rose by 1.0%. The market-cap-weighted S&P 500 gained 1.7%.
Debt Ceiling Talks – Potential Black Swan
Throughout last week, market participants grappled with mixed signals. Optimism regarding a potential debt ceiling deal began to surface after President Biden's meeting with congressional leaders on Tuesday. Remarks from these leaders sparked hope that the parties were more aligned in their debt ceiling negotiations.
This optimism continued to build until last Friday when Punchbowl News reporter Jake Sherman tweeted, "debt limit talks between the White House and House Republicans have been paused, per multiple sources involved in the talks."
There is a very small chance for a "black swan event" in which the Republicans do not make a deal to increase spending. In that event, expect the market to drop at least 20% and see both political and economic chaos.
Banking and financial stocks would likely take the brunt of the drop. Gold would likely skyrocket.
The bottom line is that I think there will still be a deal because Republicans know they will likely be blamed for a default, and Biden knows that as well.
Fed Talk – Still Hawkish?
Last week also saw some hawkish commentary from the Fed. Specifically, Dallas Fed President Logan (FOMC voter) stated that current data does not yet support the Fed pausing in June. St. Louis Fed President Bullard (not an FOMC voter) acknowledged the need for further rate hikes as inflation remains persistently high. Although Mr. Bullard does not vote on the 2023 FOMC, his viewpoint reinforces the idea that Fed officials are not considering rate cuts this year.
Retail Earnings
As earnings season draws to a close, this week was marked by earnings reports from several key retailers. Dow components Home Depot (HD) and Walmart (WMT) had mixed responses, with HD losing some ground and WMT moving higher after their earnings reports. Target (TGT) also moved higher on its earnings report, while Foot Locker (FL) plunged 27% on Friday after reporting disappointing earnings results, issuing dismal guidance, and closing 400 shopping mall stores.
S&P 500 Sector Recap
Most of the S&P 500 sectors logged gains this week, led by information technology (+4.2%), consumer discretionary (+2.6%), communication services (+3.1%), and financials (+2.2%). On the other hand, the utilities (-4.4%) sector saw the largest decline by a significant margin, followed by real estate (-2.4%).
CALENDAR & MOVERS
Tuesday: New Home Sales (April)
Thursday May 25: (QoQ) (Q1)
Debt Ceiling Talks
This week will kick off with the release of manufacturing and services PMI data from France on Tuesday, followed by similar statistics from Germany, the UK, and the US.
On Wednesday, the spotlight will be on the UK with the announcement of annual inflation (CPI y/y) and two addresses by Bank of England President Bailey. Other key events include the Ifo business climate index in Germany and the FOMC meeting.
Thursday will see the release of the US quarterly GDP (q/q GDP, second reading) and initial jobless claims, both crucial for assessing the economic situation. The week will wrap up with the release of the US PCE core (consumer price index, excluding volatile items).
BONDS
The past week did not witness any significant macroeconomic statistics. However, the retail sales figures, which rose by +0.4% in April, alleviated concerns about a US recession. The weekly jobless claims data also contributed to a surge in stock market indices, reaching a new record high for 2023.
Treasuries experienced some unwinding of the safety premium this week, particularly at the short end of the curve, as participants considered the possibility of the Fed raising rates again at the June FOMC meeting. The 2-yr note yield rose 29 basis points this week to 4.27%, and the 10-yr note yield rose 23 basis points to 3.69%.
Concurrently, bond yields followed a similar trend: the US 10-year is currently testing its resistance at 3.64%, while the German 10-year is just below 2.55%. Observing the indices' behavior if these significant levels are breached will be intriguing, which would confirm that investors are now more focused on recession risks than inflation fears.
COMMODITIES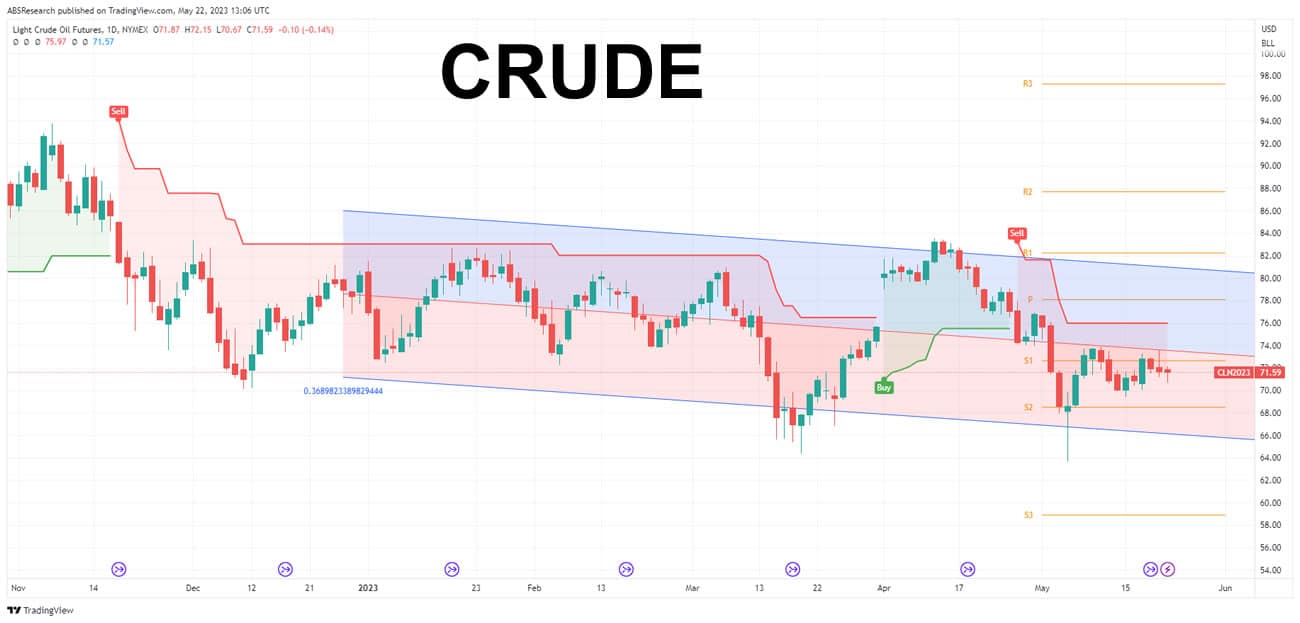 Oil & Energy
Last week saw a sharp increase in weekly oil inventories, around 5 million barrels, despite economists predicting a decline of 1.3 million barrels. Despite this, crude oil prices rose by approximately 3% over the past five sessions. This is because traders are focusing on the future, which is expected to see a price recovery for two main reasons.
Firstly, the US Department of Energy has announced the purchase of crude oil to start filling its strategic reserves. Secondly, the International Energy Agency has raised its demand growth forecast for 2023, predicting a tighter market in the year's second half. In this context, oil prices have recovered, with Brent crude at $76 per barrel and WTI at $72. In European natural gas, the Dutch benchmark, the Rotterdam TTF, trades at EUR 30/MWh, a level not seen since November 2021.
Precious Metals & Gold
China is facing challenges in reviving its economic machinery. The latest industrial production statistics are not very encouraging. Industrial production did indeed rise by 5.6% year-on-year, but the market was hoping for almost double that due to the lifting of restrictions linked to Covid-19.
As a result, industrial metal prices have quite logically lost ground this week. Copper is trading at $8100 per tonne on the London Metal Exchange. Lead, aluminum, and tin also lost ground. Only aluminum rebounded to $2280.
Gold is easing back below $2,000 per ounce. The US Dollar strengthened, which typically puts downward pressure on gold prices, making the commodity more expensive for holders of other currencies. This strengthening of the dollar was due to bulls taking profits after a recent runup to a nearly two-month high.
Higher yields also weighed on the yellow metal, contributing to the price drop. Gold also lost the $2,000 level during the week, indicating a significant drop in its price.
Furthermore, increased optimism around a U.S. debt limit deal set prices on track for a weekly drop. This decline pulled prices for the precious metal to their lowest in more than seven weeks, with gold prices notching a loss of 1.9% for the week.
Key events in the coming week, such as the FOMC minutes and US PCE inflation data, could further influence gold prices.
CRYPTOCURRENCY
Bitcoin remains relatively stable this week, hovering around $27,000 at the time of writing. On the other hand, Ether is making a slight recovery, rising 1% since Monday and climbing back above $1800. The cryptocurrency ecosystem is still struggling to provide strong catalysts to boost the overall market. While crypto-assets have so far shown a strong correlation with the Nasdaq, the last few days have shown that they have not benefited from the return of risk appetite, as evidenced by the surge in the US stock index this week.
Free AlphaBetaStock's Cheat Sheet (No CC)!
+ Bonus Dividend Stock Picks