On May 16, 2022, a major customer dispute involving Mr. Adam Feierstein, a broker associated with Concourse Financial Group Securities, Inc. and previously with ProEquities, Inc., was settled. The claimants had alleged that Mr. Feierstein recommended an unsuitable investment which resulted in considerable financial loss for them.
The dispute originated from the claimants' assertion that Mr. Feierstein had advised them to invest in a variable annuity that was deemed inappropriate for their financial situation and risk tolerance. In the world of investments, 'suitability' refers to the appropriateness of a given investment recommendation, considering an investor's financial objectives, risk tolerance, and other individual circumstances.
A variable annuity is a type of investment product typically offered by insurance companies. It allows the investors to allocate money into various investment options, such as mutual funds, with the potential for an increase in their investment over time based on the performance of those options. However, these types of investments come with their share of risks, and they are not suitable for all investors due to their complexity and potential for loss.
In this particular case, the claimants had sought damages amounting to $400,000.00, alleging that they had suffered substantial losses due to Mr. Feierstein's unsuitable recommendation. This was a significant claim and underscored the potential implications of such disputes on both investors and brokers.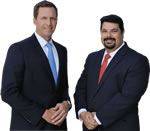 AD - Recover your investment losses! Haselkorn & Thibaut, P.A. is a national law firm that specializes in fighting ONLY on behalf of investors. With a 98% success rate, let us help you recover your investment losses today. Call now 1-888-784-3315 or visit InvestmentFraudLawyers.com to schedule a free consultation and learn how our experience can help you recover your investment losses. No recovery, no fee.
Following discussions and negotiations, the dispute was eventually settled for $40,000.00. The settlement indicates a resolution between the parties involved but does not necessarily imply that the broker, Mr. Feierstein, admitted guilt or wrongdoing. In such disputes, it is common for settlements to be reached to avoid the cost, time, and uncertainty of going through arbitration or a court trial.
This case serves as a reminder to investors to review and understand the recommended investments. Ensuring that they align with their financial objectives, risk tolerance, and overall investment strategy is crucial.
It's also a warning for brokers about the potential consequences of making unsuitable investment recommendations. The repercussions of such disputes can be damaging to their career, with potential implications including financial penalties, reputational harm, and in severe cases, loss of licensure.
Adam Feierstein, as per the FINRA's BrokerCheck, was affiliated with Concourse Financial Group Securities, Inc at the time of the dispute and previously with ProEquities, Inc. from December 11, 2018, to October 28, 2020. BrokerCheck provides a comprehensive report of a broker's professional background and conduct, including any reported disputes, disciplinary events, and other pertinent information for potential investors.
While settlements are commonplace in customer disputes, they reflect the complexities inherent in the world of financial investing. Both brokers and clients must ensure they understand the potential risks and rewards associated with any given investment. This dispute shows that a lack of understanding or inappropriate advice can lead to substantial losses and legal ramifications.
Free AlphaBetaStock's Cheat Sheet (No CC)!
+ Bonus Dividend Stock Picks