A Ponzi scheme run over many years has earned former broker Perry Santillo, who operated out of Rochester, New York, 210 months in prison. The charges against him include money laundering and mail fraud, among several others. He is also required to pay restitution amounting to $103 million, as determined by US District Judge Frank Geraci Jr.
Along with Christopher Parris, and some others, Santillo's scheme involved seeking investments for City Capital Corp. which was a business they had agreed to acquire from then-owner Ephren Taylor, including its debts and assets. This is based upon information made available by the U.S. Attorney's Office for the Western District of New York.
The acquisition proved to be "financially ruinous" for the duo. In classic Ponzi style, they did not apprise investors of the facts and continued to solicit fresh investments. A part of the fresh infusion was through the acquisition of the businesses of over 15 brokers and investment advisors.
The money from new investors was used to pay 'interest' and other necessary payments to older investors, to maintain a façade of the business generating returns and preventing older investors from smelling the rat. Maintaining the façade also included payments to cover rentals, salaries to staff, expenses for housing for employees, servicing of interest on borrowings, and other, apparently normal business expenses, including funding a lavish lifestyle for the duo.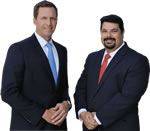 AD - Recover your investment losses! Haselkorn & Thibaut, P.A. is a national law firm that specializes in fighting ONLY on behalf of investors. With a 95% success rate, let us help you recover your investment losses today. Call now 1 888-628-5590 or visit InvestmentFraudLawyers.com to schedule a free consultation and learn how our experience can help you recover your investment losses. No recovery, no fee.
Though the scheme's start date is pegged as January 2008, the US Attorney's Office estimates that between January 2012 and June 2018, almost a thousand investors contributed over $115.5 million to the scheme, of which $44.8 million had been returned in various forms, till the "house of cards" finally came crashing down between late 2017 and early 2018.
They owed investors $70.7 million at that time.
Perry Santillo's history
According to his BrokerCheck profile, Santillo first registered with the Financial Industry Regulatory Authority (FINRA) in 2003. By 2006, three years later, he had already been registered with three different firms. His registration with Questar Capital Corp., which he joined in 2006, and that turned out to be his last, did not fare any better, ending in March 2007.
His profile does not show any other registration thereafter.
Other developments
Another major player in the developments, Taylor, has a history of his own that does not exactly inspire confidence for trusting money with. He has been convicted in the past of operating a Ponzi scheme too, as informed by the US Attorney's Office.
Parris has been convicted and sentencing is awaited.
John Piccarreto Jr., also of Rochester, New York, was sentenced last November for conspiring with Parris and Santillo on the same scheme. His prison sentence is for 7 years and he has been ordered to pay $20 million in restitution.