James  Couture was registered as a broker with LPL Financial at the time he was accused of theft of $3 million from customers. Upon turning down the plea deal related to the criminal charges, he was arrested in July 2021. He has subsequently been released without a bond. Criminal counts have been added by a grand jury, to the aggravated identity theft and wire fraud charges leveled against him, apart from investment advisor fraud, after he had made known his decision of not accepting the deal.
He has, since, been fired by LPL Financial.
He also ran the Private Wealth Management Group as a Massachusetts-based investment advisor, as well as the Legacy Financial Group, a shell company.
Acceptance of the plea deal would have meant forfeiting $2.9 million in customer funds, paying restitution amounting to $1.9 million, and a jail term of up to 91 months.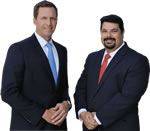 AD - Recover your investment losses! Haselkorn & Thibaut, P.A. is a national law firm that specializes in fighting ONLY on behalf of investors. With a 95% success rate, let us help you recover your investment losses today. Call now 1 888-628-5590 or visit InvestmentFraudLawyers.com to schedule a free consultation and learn how our experience can help you recover your investment losses. No recovery, no fee.
Couture's BrokerCheck record
There are a few other disclosures on Couture's record, mostly of recent provenance, and related to the instant proceedings:
June 2020 – Noting of the firing by LPL Financial for alleged customer frauds.
October 2020 – Misrepresentation alleged by a customer, that was denied.
October 2020 – Barring by the Financial Industry Regulatory Authority (FINRA) in the wake of his firing by LPL Financial.
June 2021 – A customer claim of $385,000 that appears to be related to the ongoing SEC charges and criminal cases.
Overall, he worked for over 18 years in the industry. Apart from LPL Financial, he has been associated with Lincoln Financial Securities, New England Securities, and Morgan Stanley DW during this period.
Charges against Couture
It has been alleged by prosecutors that Couture moved millions of dollars from customer accounts, to fund the bogus returns in other client accounts. He also apparently used a part of these funds to acquire a list of customers from another advisor. These transactions pertain to the period from 2009 through 2019.
The Securities Exchange Commission (SEC) has also filed civil charges that contend that in order to fund transfers to an entity controlled by him, he even got customers to sell their holdings on the false assurances of those transferred sums of money being reinvested in their name.
In typical Ponzi fashion, each time a client wanted to withdraw money, it would be funded by using the money of another client.
Responsibility of broker-dealers
Broker-dealers that a financial advisor is registered with, are responsible for supervising their activities. Failure to do so can expose them to customer claims in case of losses arising from broker misconduct, fraud or negligence.
Investor guidance
If you have had dealings with Couture or LPL Financial and believe you could have been at the receiving end of fraud or misconduct, FINRA makes available an arbitration process through which a claim can be raised against the suspected miscreants. It is recommended that this be done with the help of experienced securities lawyers representing you.
The financial advisor misconduct lawyers at Haselkorn & Thibaut (InvestmentFraudLawyers.com) are already speaking with several such customers of James Couture, ex-LPL broker. For a no-obligation case consultation, you can call them at  1-800-856-3352.