Old habits die hard if you are Ted Cadwallader, ex-broker of Ameriprise Financial Services, who was barred by the Financial Industry Regulatory Authority (FINRA) for his actions almost seven years back. Earlier based in New York, veteran broker Cadwallader has continued to attract complaints for making unsuitable investment recommendations to clients that have resulted in losses.
Cadwallader's history of disputes
From August 1999 through October 2014, when he was terminated for compliance policy violations related to private transactions as well as outside business activities, Cadwallader was an Ameriprise broker. Between 1999 and 2006 he was also a registered representative of the IDS Life Insurance Company in Minneapolis, Minnesota.
After refusing to cooperate in a FINRA (Financial Industry Regulatory Authority) investigation into the same case, he was barred by the self-regulatory organization in 2020.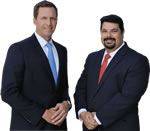 AD - Recover your investment losses! Haselkorn & Thibaut, P.A. is a national law firm that specializes in fighting ONLY on behalf of investors. With a 95% success rate, let us help you recover your investment losses today. Call now 1 888-628-5590 or visit InvestmentFraudLawyers.com to schedule a free consultation and learn how our experience can help you recover your investment losses. No recovery, no fee.
He has notched up six customer disputes on his BrokerCheck record, with the earliest dating back to 2004 and the most recent one in May 2021. It must, however, be said that 4 of these 6 claims were denied.
The six, in chronological order:
2004 – January: A claim alleging omissions and unsuitability led to a settlement of $14K.
2005 – June: Investor claimed $240K in damages on grounds of unsuitability, given her level of risk tolerance. The case was denied.
2010 – June: Client alleged risk profile mismatch for the exchange-traded fund sold, but the claim was denied.
2018 – November: $35K sought by the customer in damages on account of having been sold private securities that could not be redeemed, ended with the case being denied.
2019 – January: Cadwallader's recommendation of Adiabatic Solutions, LLC, was contended as being unsuitable. The case was settled for $90K.
2021 – May: The investor contention was of misrepresentation connected with a private placement and a claim of $151K as damages. The claim was denied.
Cadwallader has otherwise also been accused of unsuitable selling of Pacer Energy Investment as well as Regulus Energy securities.
Responsibility of Ameriprise
It has been seen that brokers tend to get pushy with the sale of certain securities where they stand to make unusually high commissions. In such cases, they often disguise or misrepresent the risk present in the investment and disregard the clients' investment objectives and risk appetite. Sometimes this approach causes life-changing losses for clients.
Though the broker and employing form could be complicit in some of these deals, FINRA enjoins upon the broker-deal the responsibility to adequately supervise their representatives so that such transactions can be prevented. Failure to do so could expose the firm to recovery claims through the FINRA arbitration process if initiated by investors suffering losses.
It has emerged after investigations that there were lacunae in the supervision conducted by Ameriprise to ensure their brokers were acting in the best interests of their clients. Had the supervision been effective many of these customer losses could have been avoided.
Filing claims for losses
Haselkorn & Thibaut is investigating these claims with Ted Cadwallader. If you believe you could have suffered losses as a result of unsuitable recommendations of Cadwallader, or any Ameriprise broker for that matter, we urge you to contact our investment fraud attorneys for a confidential, complimentary, initial discussion, to understand your options.
Our investment fraud attorneys have over 50 years of combined experience in the securities industry and can be reached on 1-800-856-3352. You can also speak with our New York unsuitability investment attorneys at 1-800-856-3352. You can also reach us through our website: investmentfraudlawyers.com.