Peter Quartararo, a New York barred broke,r was re-arrested in connection to alleged fraud concerning the purported sale of shares from a pre-initial public offer. According to the Nassau County District attorney's office, Peter Quartararo was arrested Tuesday for allegedly embezzling investors of more than $80,000 via purported investments in DoorDash and Petco.
Quartararo allegedly met two victims in 2020 at Glen Cove, New York building where he lived, and promised to get them pre-IPO shares in three companies.
According to the office, an investigation revealed that Quartararo had never bought shares for victims.
Quartararo was charged with grand theft in the second and third degrees, with the highest count carrying five to 15 years imprisonment, according to the office of the District Attorney. According to the office, Quartaro is scheduled to return to court on October 20.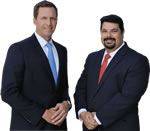 AD - Recover your investment losses! Haselkorn & Thibaut, P.A. is a national law firm that specializes in fighting ONLY on behalf of investors. With a 95% success rate, let us help you recover your investment losses today. Call now 1 888-628-5590 or visit InvestmentFraudLawyers.com to schedule a free consultation and learn how our experience can help you recover your investment losses. No recovery, no fee.
Quartararo and Paul Casella were also arrested in April over claims that Quartaro and his business partner stole $436,000 from investors. They allegedly convinced them that they were investing pre-IPO shares in Peloton, WeWork, and Airbnb.
Instead, they allegedly spent the money themselves on a 2020 Mercedes Benz SUV as well as a down payment for a Maserati.
Quartararo was convicted of five counts of grand theft in the second degree, one grand larceny charge in the third degree, and one count each of conspiracy in the fourth degree. For the top count, Quartaro faces five to fifteen years imprisonment.
In a Tuesday statement, acting district attorney Joyce Smith stated that the defendant was arrested twice for allegedly defrauding multiple victims using an empty elevator pitch. He allegedly stole more than $500,000 from his victims and never kept his promises." This case highlights the importance of investors carefully reviewing the credentials and licenses they have received from financial professionals to ensure that they are trustworthy and operate with integrity.
The Financial Industry Regulatory Authority (FINRA) barred Quartararo in March 2013 for selling a penny stock. He allegedly used the proceeds to pay personal expenses.