The 45-year-old investment advisor Martin Ruiz, of New York, New York, and Santa Fe, New Mexico, has been charged with investment advisor fraud for defrauding investors. He used the front of Carter Bain Wealth Management (CBWM), his firm that has been set up as an investment advisory, for perpetrating his fraudulent schemes.
Allegations against Martin Ruiz
The unsealing of the Complaint in Manhattan federal court was announced by Audrey Strauss, the United States Attorney for the Southern District of New York, and Peter C. Fitzhugh, the Special Agent-in-Charge of the New York Field Office of Homeland Security Investigations ("HSI").
Allegations that tumbled out from the unsealing suggested that Ruiz had pursued his nefarious activities from around March 2011 and successfully convinced several clients, many of them elderly, to appoint CBWM and Cruz as investment advisors. He received over $10M belonging to more than 12 clients which were invested, in the form of a limited partnership interest, in what was called the RAM Fund.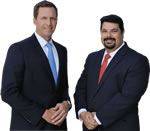 AD - Recover your investment losses! Haselkorn & Thibaut, P.A. is a national law firm that specializes in fighting ONLY on behalf of investors. With a 95% success rate, let us help you recover your investment losses today. Call now 1 888-628-5590 or visit InvestmentFraudLawyers.com to schedule a free consultation and learn how our experience can help you recover your investment losses. No recovery, no fee.
At last count, over $8M of the money entrusted by clients to RAM had been transferred through a web of entities controlled by Ruiz, eventually to be spent on his personal expenses and lifestyle, like payment of credit card bills, rent payments on several apartments as well as buying a home. It does not appear that he ever intended to invest the money in any genuine projects such as real estate, as clients were given to believe when soliciting their business. What was also not disclosed to the investors at that time was that he had a controlling interest in the RAM Fund.
Ruiz violated the basic principle of fiduciary duty to look out for the interest of his clients and avoiding self-dealing and enrichment at their expense.
The Charges
One investment advisor fraud is what Ruiz is charged with, for which a maximum of five years in prison is prescribed by Congress. Of course, the sentence in each case is determined by the judge hearing the case. Also, till proven guilty, the accused is only an accused, and to be presumed innocent, as per the basic tenets of law.
Reactions on the case
Upon his arrest and presentation before Magistrate Judge Barbara C. Moses, Manhattan U.S. Attorney Audrey Strauss said: "As alleged, Martin Ruiz promised his elderly investment advisory clients safe investments, but in fact stole his clients' retirement savings and lined his own pockets. Now, for this alleged violation of the law and of his fiduciary duty to his clients, Ruiz faces federal criminal charges."
Special Agent-in-Charge Peter C. Fitzhugh said: "As alleged, with more than $8 million in misappropriated funds, Ruiz acted with impunity while building his own personal investments. Ruiz allegedly padded his lavish lifestyle by defrauding investors, many of them elderly working-class retirees, out of their life savings. No one should live their own version of 'Lifestyles of the Rich and Famous' by swindling others out of their hard-earned money. HSI New York's El Dorado Task Force worked closely with the United States Attorney's Office for the Southern District of New York to see that Ruiz will now face the consequences of these alleged actions."
This case is being handled by the Office's Securities and Commodities Fraud Task Force. The prosecution is led by Assistant U.S. Attorney Kiersten A. Fletcher. While praising the investigative work of HSI. The Securities & Exchange Commission, which brought a related civil action against Ruiz, also came in for praise from Mr. Strauss.