Ponzi schemes, it appears, can pop out of anywhere. From the owner of a baseball team, perhaps? The Securities and Exchange Commission (SEC) has charged the Chattanooga Lookouts baseball team owner with "running a massive Ponzi scheme for over a decade." In a 40-page complaint filed in a federal court, the SEC has laid out 6 charges of securities fraud against the owner John J. Woods, along with Southport Capital, the investment firm he runs.
The Ponzi scheme that was run under the name of Horizon Private Equity, collected over $110 million from investors with assurances of returns in excess of 6%. Over 400 investors, many of whom elderly, have already been sucked into the scheme and stand to lose substantial amounts as "Horizon has not earned any significant profits from legitimate investments." Promises included saying investments would be in government bonds, stocks, or small real estate projects.
In classic Ponzi methodology, the scheme continues to raise more money, illegally as it now appears, to pay off older investors to maintain the veneer of income and returns. SEC says "a very large percentage of purported "returns" to earlier investors were simply paid out of new investor money."
SEC contends that the investments "are worth far too little for there to be any realistic prospect that the Ponzi scheme will be able to pay back existing investors their principal, let alone the promised returns." The scheme in question has been running for over 10 years now.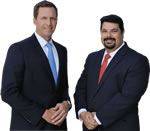 AD - Recover your investment losses! Haselkorn & Thibaut, P.A. is a national law firm that specializes in fighting ONLY on behalf of investors. With a 95% success rate, let us help you recover your investment losses today. Call now 1 888-628-5590 or visit InvestmentFraudLawyers.com to schedule a free consultation and learn how our experience can help you recover your investment losses. No recovery, no fee.
History of John J. Woods
According to the SEC filing, Woods, who is an East Ridge native living in Mariette, Georgia, got control of Southport Capital from a wealthy family in Chattanooga around 2008. He joined forces with his brother Jim to run the company. Woods' home is where he runs Southport from, to manage $824 million in client investments.
Horizon does not appear to have any offices or staff of its own, all its activities being conducted by Southport staff and Woods, through its 17 offices across 9 states, like the one in the UBS building in downtown Chattanooga.
When his group purchased the Chattanooga Lookouts minor league baseball team in 2014, from Frank Burke, its long-time owner, Woods became one of the general partners. He is now a minority owner of the Lookouts franchise, along with several other investors. He has also been an investor in several real estate projects in and around the area he lives in.
SEC says, "For the past decade, Woods and other investment advisor representatives at Southport have falsely told investors that they will earn guaranteed returns. In reality, the company generated little revenue; and the returns paid to investors largely came from the funds of later investors."
Woods' response
"We look forward to presenting Mr. Woods's side in court, through the judicial process," David Chaiken, his attorney, has said. He has tried to convey an impression that SEC's story is one-sided and that the full picture will emerge once they present their side of the story.
SEC seeks immediate action
The SEC seeks to prevent Woods from running Southport with immediate effect, even though no hearing has been scheduled. They say, "As the President and majority owner of the firm, Woods has extensively used Southport's offices and employees to carry out his Ponzi scheme. Given his fraudulent conduct and Southport's role in the fraud, Woods cannot be allowed to remain in charge of a firm with such a significant sum of client assets under management. Investors trusted Woods and the Southport investment advisers working at his direction, and they stand to lose significant portions of their retirement savings when the Ponzi scheme inevitably collapses. The longer the scheme continues, the larger the losses will be for those left holding the bag."