Steadfast Apartment REIT Inc. is a publicly registered, non-traded real estate trust (REIT) that has agreed to merge with Independence Realty Trust Inc. (NYSE: IRT). After the merger is completed, the company will keep the Independence Realty Trust name. The ticker symbol "IRT" will be used to trade the transaction. It is expected that the transaction will close in the fourth quarter of 2021.
The combined company will have a portfolio of 131 apartment homes with around 38,000 units in 16 states. It is concentrated in the Sunbelt region and Midwest. The company is expected to have an estimated equity market capitalization of $4 billion and a pro-form total enterprise value of $7 billion.
Merger
It is expected that the IRT will continue to invest in multifamily properties, with a special emphasis on Class B properties of value. Each share of Steadfast Apartment REIT shall be converted into 0.905 shares each of new Independence Realty Trust common stock. This includes cash. Independence Realty Trust stockholders and Steadfast stockholders each will own roughly 50 percent of the combined company's equity following the merger.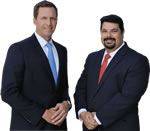 AD - Recover your investment losses! Haselkorn & Thibaut, P.A. is a national law firm that specializes in fighting ONLY on behalf of investors. With a 95% success rate, let us help you recover your investment losses today. Call now 1 888-628-5590 or visit InvestmentFraudLawyers.com to schedule a free consultation and learn how our experience can help you recover your investment losses. No recovery, no fee.
Scott Schaeffer (chairman and chief executive officer of Independence Realty Trust) stated that the combination of…highly complementary portfolios will result in a leading multifamily REIT located in the Sunbelt region. He believes this will be well-positioned for significant value unlocking and market diversification. Schaeffer expects to realize significant economies of scale, synergies and develop a more competitive operational platform in order to further capitalize on our redevelopment initiative.
According to the companies, annual gross savings of approximately $28 million are possible, with $20 million in annual general, administrative, and property management savings due to the elimination of duplicate costs related to back-office functions as well as property management administration.
Independence Realty Trust anticipates that the combined company will be able to make $8 million in operational savings each year due to its increased scale and leverage of technology.
The board of Independence Realty Trust will be increased to 10 members upon closing. It currently consists of five directors from each Steadfast or Independence Realty Trust.
Schaeffer will remain chairman and CEO of the combined business. Farrell Ender and James Sebra will remain chief financial officers.
Jessica Norman, currently Independence Realty Trust's executive vice president, general counsel, will be the chief legal officer for the combined company. Ella Neyland is currently Steadfast's Apartment REIT's president and chief financial officer. She will also serve as chief operating officers.
Independence Realty Trust plans to keep its current dividend level after closing. MarketBeat reports that the company pays a $0.48 per share annual dividend with a yield of 2.4%. The company's last quarterly dividend payment was made on Friday, July 23, to shareholders who were registered.
Independence Realty Trust Inc. (IRT) Stock
The shares of Independence Realty Trust closed Monday at $19.91, down 0.45 percent from the previous trading day. After hours, shares fell an additional $0.81, to $19.10 (a decrease of 4.07%) from the previous close. However, the trend is very bullish.
Independence Realty Trust is a multifamily property owner and operator in non-gateway U.S. cities, such as Atlanta, Dallas, and Memphis. The company's investment strategy focuses on "gaining scale in key amenity-rich submarkets that provide good school districts, high-quality retail, and major employment centers."
Steadfast Apartment REIT invests in apartment communities in specific markets across the United States. These communities have high income and occupancy levels, regardless of market cycles. The REIT manages a portfolio of 70 apartment communities worth $3.4 billion in 14 states. Steadfast Apartment REIT completed mergers with Steadfast Income REIT Inc. and Steadfast Apartment REIT III Inc. in March 2020. As of March 6, 2020, the post-merger entity had an asset value per share (net asset) of $15.23.
Independence Realty Trust Inc. (NYSE: IRT) Stock Pivots
| Pivot | Classic | Fibonacci | Camarilla | Woodie | DM |
| --- | --- | --- | --- | --- | --- |
| S3 | 14.64 | 16.35 | 17.76 | 15.60 | — |
| S2 | 16.35 | 17.00 | 17.92 | 16.36 | — |
| S1 | 17.29 | 17.41 | 18.07 | 17.31 | 17.68 |
| P | 18.06 | 18.06 | 18.06 | 18.07 | 18.25 |
| R1 | 19.00 | 18.71 | 18.39 | 19.02 | 19.39 |
| R2 | 19.77 | 19.12 | 18.54 | 19.78 | — |
| R3 | 21.48 | 19.77 | 18.70 | 20.73 | — |