The Chicago Sun-Times has reported that Marcus Boggs, a financial advisor with Merrill Lynch, has pleaded guilty to wire fraud. This was during a virtual hearing on Friday before US District Judge Mary Rowland, who has set the sentencing for 11th June. He admitted to using the money to pay for international travel, meals, mortgage payments, and rent.
Other news reports put the amount that he cheated clients out of, at $3 million.
Boggs has been with Merrill Lynch for his entire career, starting 2006, till December 2018, when he was discharged by his employer over allegations of fraudulent withdrawals from client accounts.
All of Boggs' victims have been compensated, as confirmed by a Merrill Lynch spokesperson.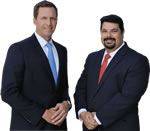 AD - Recover your investment losses! Haselkorn & Thibaut, P.A. is a national law firm that specializes in fighting ONLY on behalf of investors. With a 95% success rate, let us help you recover your investment losses today. Call now 1 888-628-5590 or visit InvestmentFraudLawyers.com to schedule a free consultation and learn how our experience can help you recover your investment losses. No recovery, no fee.
Boggs was barred from the industry in January 2019 by the Financial Industry Regulatory Authority (FINRA) when he failed to respond to requests for information. In March 2020, he was barred by the Securities and Exchange Commission (SEC) over allegations of stealing $1.7 million from client accounts.
The impact of losing substantial sums of money on account of broker fraud can be seen in the context of Shainne Sharp, one of Boggs' victims and a member of the so-called Dixmoor 5 – the five (at that time) teenagers apparently framed by the Police for the rape and murder of 14-year old Cateresa Matthews, in 1991, as per the Sun-Times.
The $5 million Sharp received in settlement for wrongful conviction was entrusted by him to Boggs to manage, based on the complaint against Boggs filed in 2019, that was referenced by the newspaper. The complaint goes on to say that Sharp "hit rock bottom" when, in May 2018, he was told by Boggs that the settlement money was all gone.