GPB Capital is suing Signature Bank for a little over two million dollars claiming the lender improperly seized cash from its accounts over loan defaults.  One of the loans is from the Covid-19 federal Paycheck Protection Program (PPP).
The firm's PPP loan for more than one million is one of several received by the firm, which has invested through its private-equity funds in trash haulers, car-dealerships, and cold-storage warehouses over two hundred and fifty businesses it owns/controls.
GPB is alleging the loan "was made with the expectation that it would be forgiven" and was seeking forgiveness on the loans.  Signature Bank took the funds five days after GPB Capital and three people were charged with fraud in an alleged Ponzi-scheme. The bank took the funds because the charges by the SEC would negatively affect the GPB's ability to repay. GPB has denied the claims by the SEC.
Since the arrests, lawsuits have been filed by state regulators and investors to recover losses.  Regulators claim that GPB defrauded more than 17,000 investors out of $1.7 billion Ponzi-scheme in which investors were promised 8% dividends.  A little over a week ago the SEC appointed an independent monitor to oversee GPB Capital's operations.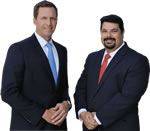 AD - Recover your investment losses! Haselkorn & Thibaut, P.A. is a national law firm that specializes in fighting ONLY on behalf of investors. With a 95% success rate, let us help you recover your investment losses today. Call now 1 888-628-5590 or visit InvestmentFraudLawyers.com to schedule a free consultation and learn how our experience can help you recover your investment losses. No recovery, no fee.
There has been a surge of lawsuits by investors. After the arrest, we spoke to Matt Thibaut from Haselkorn & Thibaut, a national firm that specializes in investors' rights and fraud.  He told me that the firm has been investigating GPB Capital for over two years and currently representing investors in several lawsuits.
"Finally, today's charges by the SEC will hopefully put an end to the ongoing misrepresentations made by the many firms and broker's that sold GPB that strung investor-clients along hoping for a brighter day. Honestly, with so much regulatory scrutiny that had been pending for years, the SEC's formal action was the other shoe that many claimant-side lawyers and investors were waiting to fall, and there may be more to come."
Investors can get a free case review by an investment fraud lawyer by calling 1 888-628-5590 or visiting the GPB Capital investor lawsuit website.