NYC REIT, formerly known as American Realty Capital New York City (NYC), continues a downward trend with a share price of $10.  For investors that originally bought NYC REIT this is over a 50% loss.  The pending new lock-downs due to Coronavirus may drive the share price more. Investors have started filing FINRA lawsuits against financial advisors that sold them NYC.
Haselkorn & Thibaut (InvestmentFraudLawyers.com) have started an investigation into NYC REIT as well as the the financial advisors and broker dealers that sold it. Investors and anyone having information should contact them at 1 888-628-5590.
NYC REIT is a real estate investment trust (REIT) that owns a portfolio of commercial real estate located within the 5 boroughs of New York. It was orignally sold to retail investors as a way for income and appreciation. Financial advisor touted ARC NYC REIT as "high-quality commercial real estate located within the five boroughs of New York City, particularly Manhattan."
Many investors feel blind sided because the NYC REIT  was originally sold as a non-traded REIT, meaning it did not trade on the exchange. This made ARC NYC REIT illiquid and not transparent in pricing. In other words, investors were not able to easy sell it nor knew what the value was until they tried to sell it on a secondary market. To make matters worse, NYC stopped distributions which caused the value to drop even more.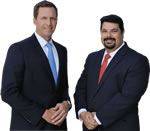 AD - Recover your investment losses! Haselkorn & Thibaut, P.A. is a national law firm that specializes in fighting ONLY on behalf of investors. With a 95% success rate, let us help you recover your investment losses today. Call now 1 888-628-5590 or visit InvestmentFraudLawyers.com to schedule a free consultation and learn how our experience can help you recover your investment losses. No recovery, no fee.
This past August NYC REIT was listed on the on the New York Stock Exchange. Unfortunately, the stock crashed over 40% on its first day of trading. The company enacted a 2.43 to 1 reverse stock-split which caused more loses.
Most investors and retirees did not realize the risks of NYC REIT and non-traded REITs. These types of investments are extremely risky, speculative investments that should only be purchased by accredited investors that understand them. Many brokers promote them because they are some of the highest commissioned products that broker-dealers sell.
The good news is that those investors that incurred losses investing in NYC REIT or any other non-traded investments may be able to recover those losses through a Financial Industry Regulatory Authority (FINRA) arbitration process. Under FINRA regulation and rules, Broker-Dealers are responsible for conducting proper due-diligence on those securities/investments recommended to their customers and therefore may be held liable for losses related to failures in their due-diligence.