The S&P 500 and bond yields are climbing on very promising vaccine news by Pfizer and BioNTech. BioNTech (BNTX) stock is +14.09% in trading on Monday, while Pfizer's (PFE) stock is up 9.68%. The current vaccine is reported to be 90% effective.
Turning to the election which is the primary market driver for the near term.
It has been another crazy week and we expect the Presidential race to be contested as long as Thanksgiving. ABS's goal is to cut through the noise for readers and is not political.
That being said, the stockmarket as whole is responding to the presumptive Biden presidency and a divided Congress in a positive way because it means there is little chance that Biden will reverse Trump's tax cuts or other policies that could directly affect business.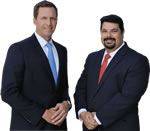 AD - Recover your investment losses! Haselkorn & Thibaut, P.A. is a national law firm that specializes in fighting ONLY on behalf of investors. With a 95% success rate, let us help you recover your investment losses today. Call now 1 888-628-5590 or visit InvestmentFraudLawyers.com to schedule a free consultation and learn how our experience can help you recover your investment losses. No recovery, no fee.
However, there is still lots of litigation ahead and a key vote for the two Georgia Senate seats on January 5. Al Gore challenged the Presidency for 37 days.  It would not surprise us that President Trump fights in the courts for at least as long. Here are some of the things that may have an effect on the "projected" results:
Results Not Official: Wait for "Certified" state results.
Expect A Month of Challenges: Gore challenged Bush for 37 days.
Recount: Most key states have recounts & expected to take time.
Lawsuits: There are lawsuits in 11 states and this could have a huge impact.
Supreme Court Twist: 3 Justices were part of the Bush legal team in 2000.
Meanwhile, German and Chinese trade data showed exports continued to improve. The U.S. calendar today has earnings and the $54 bln 3-year sale that kicks off the $122 bln record November refunding auctions. There is Fedspeak from Mester and Kaplan.
The Dow mini is leading the rally and has soared 5.65% through the 29,600 level, while the S&P 500 mini is up 3.90% to test 3650. The NASDAQ future has gained about 0.8%. European bourses are similarly flying with a 5.9% pop on the CAC 40, a 5.6% jump in the FTSE, and a near 5% increase in the DAX. Asian equities closed with better than 1% gains.
Key Market News

Wall Street surges to record levels on vaccine news, presumed Biden win with GOP Senate Control
Treasury yields cheapen dramatically on risk-on flows, upcoming supply
Treasury auctions record $54 bln in 3-year notes in record $122 bln refunding
Data calendar empty, but earnings reports and Treasury auctions on tap
Treasury market closed Wednesday for Veterans Day
These gains have boosted the MSCI World Index to a record high. The surge in risk appetite is weighing heavily on bonds with the wi 30-year Treasury up 10 bps at 1.70% and the wi 10-year 9 bps higher at 0.925%, with the wi 3-year 2.5 bps cheaper at 0.235%. The 2-year is up 1.4 bps to 0.167%. The Gilt has risen 6.2 bps to 0.334% and the Bund is up 5.4 bps to -0.567%.