Scott Barcomb, a financial advisor based in Sarasota, Florida, is being investigated by Haselkorn & Thibaut, a national investor a law. Mr. Barcomb currently registered with Berthel, Fisher, and Company Financial Services. According to FINRA's Brokercheck, Barcomb has 6 disclosures, which include 5 customer disputes and one criminal disclosure.
The accusations include: forfeit charges to the client after recommending her to "sell on variable annuity to fund the purchase of another variable annuity", not fulfilling the client's wish to cancel investment in an annuity, "after she made the request", failure to "conduct due diligence", and also failing to "advise correctly on taxes". The total amount of the settlement: $240,242.00. While the criminal charges include "fleeing to elude" and "possession of $20 of cocaine."
Mr. Scott Barcomb has been a part of multiple firms that includes, Continental Capital investment, Berthel, Fisher and Company Financial Services, Tower Equities (banned by FINRA in 2014), prudential securities incorporated, Dean Witter Reynolds, and E.F. Hutton and Company.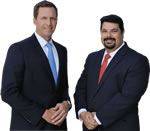 AD - Recover your investment losses! Haselkorn & Thibaut, P.A. is a national law firm that specializes in fighting ONLY on behalf of investors. With a 95% success rate, let us help you recover your investment losses today. Call now 1 888-628-5590 or visit InvestmentFraudLawyers.com to schedule a free consultation and learn how our experience can help you recover your investment losses. No recovery, no fee.
Haselkorn & Thibaut (InvestmentFraudLawyers.com) is currently investing the manner in which Scott Baromb sold investment products and services to investors.  If you have any knowledge or experience with these matters, please contact Haselkorn & Thibaut, P.A. at 1-888-628-5590, or visit the law firm's website.
To help consumers, FINRA operates a database of all the investor complaints, along with disciplinary and employment history, for registered brokers and broker-dealer's disclaimers. Some of the main information can be found on its Brokercheck website, www.brokercheck.finra.org.
Financial advisors have a duty to advise appropriate investments that are suitable for their individual clients. Their broker-dealer (employing brokerage firm) has two obligations: a supervisory duty to oversee the financial advisor's sales practices and how they deal with clients. Insofar as, the customer may be entitled to recovery of his or her investment loss, in case any of the obligations are breached.