Last night was insanely crazy with both Trump and Biden looking to win. Unfortunately, the uncertainty will continue for at least the next week. As we predicted, we think President Trump is likely to win the Presidential Election, and Republicans will maintain a Senate majority. This is based on the current votes and Biden losing Pennsylvania.
| | | | | | |
| --- | --- | --- | --- | --- | --- |
| | DJIA F | 27,507 | 131 | 0.48% | |
| | S&P F | 3,408.75 | 47.15 | 1.40% | |
| | NASDAQ F | 11,621.00 | 355.25 | 3.15% | |
| | Gold | 1,909.90 | -0.50 | -0.03% | |
| | Silver | 24.150 | -0.184 | -0.76% | |
| | Crude Oil | 38.55 | 0.89 | 2.36% | |
Market Driver – Election
Contested (1 Week): Expect the markets to be neutral to down due to uncertainty.
Trump Win (Likely 1 Week): Expect a 2% or higher jump in overall inequities.
Biden Win (Unlikely): Market to see an increase, but several sectors such as energy will likely drop.
Investor Election Watch
PA – If Biden loses PA then he will likely lose the election.
MI & GA – If Trump loses both MI & GA then he will likely lose.
Investor Market Watch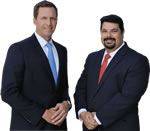 AD - Recover your investment losses! Haselkorn & Thibaut, P.A. is a national law firm that specializes in fighting ONLY on behalf of investors. With a 95% success rate, let us help you recover your investment losses today. Call now 1 888-628-5590 or visit InvestmentFraudLawyers.com to schedule a free consultation and learn how our experience can help you recover your investment losses. No recovery, no fee.
Investors should keep an eye on the VIX and crude oil prices to get an idea of market direction. A sudden increase in the VIX could signal trouble for the markets. While a drop in the crude oil prices should correlate to equities.
Late last night the US Futures were up as a Trump win looked close.  However, they turned to mixed later in the morning as the election turned to a contested election. This morning markets have traded mixed and now pointing BULLISH so far against the background of an uncertain election outcome of a Trump win. Several market analysts had hopes that a "blue wave" would spark a spending spree had helped markets to rally Monday and Tuesday, but with results so far suggesting a very tight race.
The DAX swung between gains and losses during the European AM session and is currently little changed on the day, while CAC 40 and FTSE 100 are posting gains of 0.3% and 0.2% respectively.
U.S. futures are also mixed, with the tech-heavy NASDAQ outperforming. Japanese indices outperformed overnight in catch up trade and the Nikkei rallied 1.7% after returning from Tuesday's holiday. the Hang Send closed with a loss of -0.2%, however as Alibaba Group Holding Ltd tumbled after China halted the initial public offering of Ant Group Co. in which Alibaba holds a large stake. The CSI 300 lifted -0.8%, while the ASX was in the red at the close.