One of my favorite stocks to watch is Johnson & Johnson (NYSE: JNJ) because it provides a great dividend. Currently, JNJ stock shares are experiencing a 2.5% corrective gain from a 2-month low.  In the previous week, the stock of Johnson & Johnson grew by 1.39%. S&P500 index went up by 2.17% during the same period.
As an investor, I have been asking myself if Johnson & Johnson stock is a good stock to buy. The short answer is yes, JNJ stock is a buy if it makes sense for your portfolio and risk.  There are five big reasons for investors to look at buying JNJ stock:
Trading At Discount: At the moment, JNJ stock price is traded at a discount of 6% to the April 52-week high.
Great Dividend: JNJ has consistently paid an excellent dividend. The current dividend is $4.04 (2.75%), which is excellent for a blue-chip company this size.
Low Beta: JNJ currently has a Beta of 0.69 which means it moves less than the market as a whole.
Below Average Target Price: JNJ is currently trading below the target price of analysts.
Coronavirus Vaccine (HUGE): Last week, the start of testing phase 3 of the JNJ coronavirus vaccine was announced, with the involvement of 60,000 volunteers on three continents. The company expects to receive final FDA fast-track approval early next year. In view of the news, CFRA analysts have raised their recommendation for the emitter's shares.
Before you enter your trade, there are other things to consider before buying JNJ stock.  Buying and Selling at key levels are critical to making a profit with this type of stock because it not a growth stock. Long term investors will appreciate the dividend and potential for growth.  However, there is always a risk when buying a stock.
Contents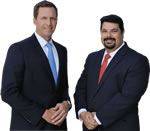 AD - Recover your investment losses! Haselkorn & Thibaut, P.A. is a national law firm that specializes in fighting ONLY on behalf of investors. With a 95% success rate, let us help you recover your investment losses today. Call now 1 888-628-5590 or visit InvestmentFraudLawyers.com to schedule a free consultation and learn how our experience can help you recover your investment losses. No recovery, no fee.
JNJ Support and Resistance
Johnson & Johnson stock is dominated by bears right now and downward trend.  JNJ stock is ranging between 144 and 148 and it appears that the stock is consolidating. Due to the ranging trend, indicators are not giving a clear signal, although some are bearish, most likely due to the recent dip.
Resistance levels: 148.00, 151.00, 155.00.
Support levels: 144.00, 140.00, 137.00.
JNJ Trading Ideas

If JNJ price consolidates below the support level of 144.00, the company's shares may continue to decline. Potential profits should be locked in by orders at 141.00, 138.00, and 136.00. Stop-loss – 147.00. Implementation period: 2–3 days. If the price consolidates above 148.00, one may consider buying #JNJ. The moving potential is aimed at the area of 153.00–156.00. Stop-loss – 145.00.
Stock Price Ratings & Targets
| | | | | |
| --- | --- | --- | --- | --- |
| Apr-28-20 | Downgrade | UBS | Buy → Neutral | $163 → $160 |
| | | | | |
| --- | --- | --- | --- | --- |
| Apr-22-20 | Upgrade | BofA/Merrill | Neutral → Buy | $150 → $175 |
| | | | | |
| --- | --- | --- | --- | --- |
| Mar-05-20 | Initiated | Citigroup | Buy | $163 |
| | | | | |
| --- | --- | --- | --- | --- |
| Dec-19-19 | Upgrade | Barclays | Equal Weight → Overweight | $173 |
| | | | | |
| --- | --- | --- | --- | --- |
| Dec-17-19 | Upgrade | Morgan Stanley | Equal-Weight → Overweight | $145 → $170 |
| | | | | |
| --- | --- | --- | --- | --- |
| Nov-20-19 | Initiated | Cantor Fitzgerald | Overweight | $160 |