H.B. Fuller (NYSE: FUL) is a dividend king stock that has steadily increased its dividend in recent years. While the current yield of 1.53% is not very impressive on the surface, the company regularly offers annual dividend increases, which significantly increases dividend income for shareholders. Recently several hedge funds have started buying Fuller stock.
H.B. Fuller has been able to maintain annual dividend increases during severe recessions and is one of the more profitable companies in the US with a strong track record. The combination of dividends and high-profit growth could deliver excellent returns to shareholders in the coming years. Fuller has increased its dividend every year since 2009, including a recent increase in April, so it's a great stock for long-term investors with a high dividend yield.
Fuller has an annual revenue of $2.9 billion. The company is a manufacturer of building adhesives and a supplier of adhesives for the automotive, construction, automotive, building materials, and other industries.
Organic revenue declined in the first quarter, but would it have been up if it had not been for currency and divestitures. Adjusted earnings per share were $.034, which is flat compared to the same quarter last year.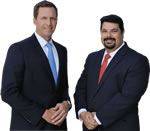 AD - Recover your investment losses! Haselkorn & Thibaut, P.A. is a national law firm that specializes in fighting ONLY on behalf of investors. With a 95% success rate, let us help you recover your investment losses today. Call now 1 888-628-5590 or visit InvestmentFraudLawyers.com to schedule a free consultation and learn how our experience can help you recover your investment losses. No recovery, no fee.
The coronavirus crisis is likely to have a negative impact on H.B. Fuller, but not as much as on other companies in the industry.
The Fuller remains profitable so that it can continue to increase its dividend, and in the meantime, it has had a positive long-term growth outlook. H.B. Fuller and other large US companies have not been immune to recessions. During the recession of 2008, earnings per share fell by 79%, but as the US economy recovered from the downturn, earnings per share quickly returned to growth.
According to Fuller, the $50 billion adhesive market has grown at an annual rate of 3.8% over the past 38 years. It is also one of the leading players in the US adhesives market. Its global reach gives it a significant competitive advantage as smaller manufacturers cannot compete with its global reach.
Fuller stock trade at 17.15 price per earnings. The company has compensated for this relatively modest return by consistently increasing the dividend over the years, and the shares currently have a dividend yield of 1.53% H.B. Fuller can look back on strong earnings growth and strong dividend growth. Fuller shares have an average annual return of 7.8% over their history, a much higher rate than the average return of the US stock market.
Bottomline On H.B. Fuller Stock (NYSE: FUL)
The H.B. Fuller (NYSE: FUL) has significant long-term growth potential as it is a global leader in a highly fragmented industry. I would consider H.B. Fuller to be one of the top dividend kings for long-term dividend growth investors. That being said, investors should look at buying at key levels and try to buy on a FUL stock dip.
Pivots
Pivot Classic Fibonacci Camarilla Woodie DM
S3 15.71 25.99 34.79 22.45 —
S2 25.99 29.92 35.74 26.46 —
S1 31.81 32.35 36.68 32.73 34.04
P 36.27 36.27 36.27 36.74 37.39
R1 42.09 40.20 38.56 43.01 44.32
R2 46.55 42.63 39.50 47.02 —
R3 56.83 46.55 40.45 53.29 —