SagePoint Financial is currently being investigated by Haselkorn & Thibaut (InvestmentFraudLawyers.com) for their sales of GPB Capital Holdings to investors by financial advisors. GPB Capital has been accused of running a "Ponzi Scheme" and misusing funds.
This comes after nearly two years of lawsuits, a raid by the FBI, investigations by FINRA and SEC, and the arrest of GPB Capital's compliance officer.  Many GPB investors are struggling with what to do about the losses they have suffered after investing in one or more GPB funds.
Who is Sagepoint Financial?
SagePoint Financial, Inc., part of the Advisor Group, is a registered financial services company in the United States with offices in New York City, San Francisco, Los Angeles, and San Diego. SagePoint supports a wide range of financial products and services for individuals, businesses, organizations, and individuals.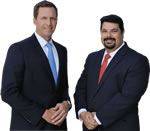 AD - Recover your investment losses! Haselkorn & Thibaut, P.A. is a national law firm that specializes in fighting ONLY on behalf of investors. With a 95% success rate, let us help you recover your investment losses today. Call now 1 888-628-5590 or visit InvestmentFraudLawyers.com to schedule a free consultation and learn how our experience can help you recover your investment losses. No recovery, no fee.
The company is a broker-dealer licensed in all 50 states and registered with the SEC since 2005 and headquartered in Phoenix, Arizona. They are registered with Federal Deposit Insurance Corporation (FDIC) and member of FINRA, the Securities and Exchange Commission (SEC).
Advisor Group, Inc. is one of the largest independent financial advisors serving more than 7,000 advisors and managing approximately $190 billion in client assets. The Advisors Group is one of the largest and most respected financial advisory firms in the world. The Advisor Group cultivates a spirit of entrepreneurship and independence.
Sagepoint Financial Complaints
In March 2016, the Securities and Exchange Commission (SEC) initiated an administrative and enforcement action against SagePoint Financial. As part of their annual disclosure to the SEC and the Federal Deposit Insurance Corporation, they have listed 24 disclosures, including 13 regulatory events and 11 arbitration proceedings.
Among other things, the SEC found that representatives of SagePoint Financial failed to disclose conflicts of interest and recommended certain investment products. Regulators found that the fiduciary standards were violated by representatives of Sage Point as well as by the SEC and the Federal Deposit Insurance Corporation (FDIC)
GPB Capital Investigations With Sagepoint
Haselkorn and Thibaut's clients alleged that SagePoint financial advisors improperly sold them GPB Capital investments. The national investor law firm examined account activity and statements to determine whether there had been any wrongdoing. Specifically, the sales practices of financial advisors were investigated, taking into account the nature of the sale and its impact on customers' risk tolerance, as well the due diligence performed by the broker-dealer on GPB Capital Holdings.
Many clients claim they were completely unaware of the risks and did not me the profile of an accredited investor. By law, GPB Capital's private placement investments recommended to clients by many investment advisors and stock brokers are subject to the same due diligence procedures as other private placements. This includes the requirement that the investor is "accredited," meaning they have a high net worth and understand the risks.
According to Investment News reports, more than $400,000 in FINRA arbitration claims have recently been filed against Sagepoint and GPB Capital in connection with losses at GPB Capital. State and federal regulators are reviewing the company's private placement investments and its compliance with securities laws.
What Can SagePoint Financial Investors Do?
Investors who bought GPB Funds on the recommendation of a broker via private placement have many options. The most significant cases of misconduct by SagePoint in mediation have also been documented. GPB's private placement lawyers have already filed several investor fraud lawsuits against brokers and dealers on behalf of their clients.
If you have been recommended to GPB Capital by a financial adviser, broker, or trader, you may be entitled to compensation for your losses. SagePoint Financial, Inc. is a member of FINRA, the Securities and Exchange Commission (SEC) and the Federal Deposit Insurance Corporation (FDIC).
Haselkorn & Thibaut are offering a free consultation and review for investors. Their phone number is 1 888-628-5590 or visit their website for more information.