Exxon Mobil shares (XOM) traded at a discount of 1.6% to a monthly high, strengthening in the second half of April. The growth of XOM prices from the March 52-week low of $31.45 amounted to nearly 30% ($43.91). On May 1, before the market opens, the Exxon will report for the past quarter. Wall Street expects a 92.7% (YoY) decline in earnings per share to USD 0.04 from 15.4% (YoY) revenue reduction to USD 53.8 billion.
The reality is Exxon Mobile stock is likely to revisit lows if oil prices continue to stay low. Many traders are expecting XOM to take another serious drop.  This is commonly referred to as a "dead cat bounce."
In the previous week, the stock of Exxon Mobil grew by 6.70%. S&P 500 index went up by 2.00% during the same period.
Contents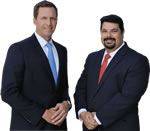 AD - Recover your investment losses! Haselkorn & Thibaut, P.A. is a national law firm that specializes in fighting ONLY on behalf of investors. With a 95% success rate, let us help you recover your investment losses today. Call now 1 888-628-5590 or visit InvestmentFraudLawyers.com to schedule a free consultation and learn how our experience can help you recover your investment losses. No recovery, no fee.
Exxon Mobil Support and Resistance
The XOM is in the lateral movement and no single direction tendencies are observed. #XOM quotes are testing the key support and resistance levels of 39.00 and 46.00, respectively. The company's shares have the potential to recover after a significant decline. Indicators don't give clear signals: the price has consolidated between MA (50) and MA (200), and MACD histogram is located near the zero line.
Resistance levels: 46.00, 54.00.
Support levels: 39.00, 31.00.
Market Today
The S&P 500 is up again and we are continuing to see a bull run because governments and central banks everywhere have pledged to support the global economy. Countries in Europe and U.S. states are pushing to restart their economies. The sooner asset managers think the outbreak is under control, the sooner they can become more constructive on investing in the markets.
Here in the US we see that Senate majority leader Mitch McConnell said he anticipates additional funding approval by Congress for states and cities. A coalition funding a number of coronavirus efforts said a vaccine could be available as soon as this year. The U.S. said it will restrict exports to China to ensure its military can't gain access to key technology. Lastly, More state governors suggested they would begin reopening businesses soon.
Company Earnings Report
AB, AFMD, AMTB, AUB, AXE, CAC, CAT, CBSH, CCEP, CIGI, CMI, CNC, DCOM, DHI, DTE, ECL, FBC, FCF, FELE, GLW, HOG, IQV, IRDM, KNDI, LN, LUV, MMM, MRK, MSCI , NEO, NUE, OXSQ, PEP, PFE, PII PJT, PPBI, ROK, ROP, SC, SIRI, SMED, SPGI, SSTK, TAL, TEL, TPB, TROW, TRU, UPS, WAT, WDR, XRX, YNDX, ZBRA before the open.
AAT, AGR, AKAM, ALRS, AMD, APAM, ARAY, BEDU, BUSE, BXMT, BXP, BYD, CALX, CERN, CHE, CHRW, CYH, CGICA, DXCM, EHC, ENVA, F, FARO, FDEF, FEYE, FFIC, FLXS, GFF, GOOD, GOOGL, HELE, HIW, HOPE, HWC, IRBT, JNPR, KREF, KTCC, LSCC, MASI, MDLZ , MEDP, MKSI, MPWR, MRC, MRCY, MSTR, MTH, MXIM, OI, OKE, PAYC, PRGX, QCRH, RCKY, RNST, RRD, SBCF, SBUX, SIMO, SMBK, SYX, TENB, THG, TNET, TRMK, TX, UIS, UMBF, VALE, VBTX, WERN, WIRE, WW, YUMC, ZYXI after the close.
Economic Report Calendar
Japanese Unemployment Rate March
U.K. Nationwide House Price for April (2 a.m.)
French Consumer Confidence for April (2:45 a.m.)
U.K. CBI Distributive Trades Survey Expected for May (6 a.m.)
U.K. CBI Distributive Trades Survey Realized for April (6 a.m.)
Preliminary Wholesale Inventories for March (8:30 a.m.)
S&P/CASE-Schiller for February (9 a.m.)
Consumer Confidence for April (10 a.m.)
Richmond Fed Manufacturing Index for April (10 a.m.)
American Petroleum Institute Crude Oil Inventory Data (4:30 p.m.)