The market as a whole is up today despite some very negative economic news yesterday. Many investors are starting to turn BULLISH.  Here are 5 reasons the S&P S&P 500 is Higher Today (INDEXSP: INX) is up this morning:
The House passed another $484 billion worth of stimulus legislation that includes another $320 billion for small businesses, $75 billion for hospitals, and $25 billion for testing.
Treasury Secretary Steven Mnuchin remained optimistic about the domestic economy reopening in May and June, leading to a strong rebound in the third and fourth quarters.
New York Governor Andrew Cuomo suggested the number of infections in the state may be ten times higher than what has been reported, implying a far lower mortality rate.
The Treasury will ask public companies seeking virus-related aid, who are viewed as important to national security, to offer equity stakes to the government.
Mnuchin predicts most of the economy will be operating this summer. This would support the case for the economy bottoming in the second quarter.
Yesterday's preliminary US purchasing managers' index for April from analytics provider IHS Markit was the worst recorded.
One thousand companies in the manufacturing and services businesses were asked whether the level of activity is the same, higher, or lower than it had been the month prior.
Yesterday's results told us business were seeing an "unprecedented" fall in business. It was the steepest drop in output since the fiscal crisis. And the data wasn't much different in Europe or Asia. Those regions also saw record lows.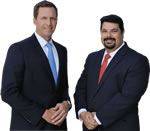 AD - Recover your investment losses! Haselkorn & Thibaut, P.A. is a national law firm that specializes in fighting ONLY on behalf of investors. With a 95% success rate, let us help you recover your investment losses today. Call now 1 888-628-5590 or visit InvestmentFraudLawyers.com to schedule a free consultation and learn how our experience can help you recover your investment losses. No recovery, no fee.
Everyone knew bad news was forthcoming, given The widespread lockdowns we are experiencing. But the autopsy is still sobering.
An investor, you can go one of 2 ways.
You can throw your hands up and abandon the market entirely.
Or you can look for reasons why this might be the bottom of the cycle and search for opportunities that may lie ahead.
Yesterday, investors are choosing to do the second. They're looking toward an economic rebound. Many of them are taking a cue from Treasury Secretary Steven Mnuchin, who's sounding increasingly confident on the potential for domestic economic growth.
Not all, the market will reopen by the end of August. And leading up to that point, the White House will allow businesses to restart gradually.
Mnuchin is one of the chief architects of the current $2.2 trillion coronavirus stimulation legislation passed by Congress. He was crucial to negotiating a deal with House Speaker Nancy Pelosi (D-CA). As part of the bundle, he was able to secure $454 billion in capital for the Federal Reserve to stabilize credit markets. In a nutshell, he's overseeing the rescue.
The former Goldman Sachs partner has recently negotiated another stimulus bill worth $484 billion. He expects this will be enough concerning near-term economic aid for small businesses.
He noted the latest bill includes an extra $310 billion slated for the Paycheck Protection Program as well as an"idle" $300 billion sitting in disaster loan programs. He's also hoping that a number of those companies will be able to get into the Federal Reserve's Main Street Lending Program too.
Mnuchin reiterated the government, and the central bank are committed to doing everything they can to encourage domestic businesses and the economy.
This would conform to suggestions from the Federal Reserve and other economists that the next quarter will indicate a near-term bottom. They're looking for a recovery to begin in the next quarter.
We'll want to keep an eye on these developments as earnings season progresses. Already we are hearing many companies say they're unsure of the near-term outlook.
But they are cautiously optimistic about the turnaround possible. States began lockdowns in earnest during March. So, there's some semblance of need left in first-quarter earnings reports.
The economy will experience a peak. We are likely in the worst of it right now. Therefore, we see things like crashes in the purchase price of oil.
But it's the moving forward from the bottom that will count. If businesses can reopen and the economy can start to accelerate once more, such as the Treasury secretary is suggesting, that will boost demand for everything. This earnings period offers companies the opportunity to reset annual guidance expectations without being harshly punished.
Investors will be looking for guidance from businesses next quarter as a testament to what the economy is going to look like moving forward. That will be the secret to driving stock market performance from current levels.