US equity markets finished slightly higher despite the horrible economic news with the day higher, with the S&P 500 +0.57%, the Dow +0.12%, the Nasdaq +1.66%, and the Russell 2000 -0.52%. The markets had been mixed for most of the afternoon on poor economic data. And they came in under the "whisper" number (unofficial estimate) of 6.3 million. The Philadelphia Federal Reserve's manufacturing index dropped under the lows from the recession.
Housing starts dropped below estimates, while construction permits narrowly beat expectations. New York Governor Andrew Cuomo chose a more cautious tone on the coronavirus outbreak while prolonging the state's lockdown before May 15.
Today's Markets from a Traders Perspective
We are seeing very negative swings with the release of bad data. The economic numbers are horrible and it appears that two things are happening: 1) The Fed and Money Managers are buying everything (Blackrock admitted this), and 2) The market as a whole seems to forget them as soon as any positive news or perceived news comes out. America is facing 15% or more unemployed (the depression was 25%) and all we are getting is politicians battling for press conference time.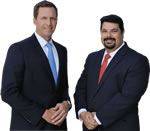 AD - Recover your investment losses! Haselkorn & Thibaut, P.A. is a national law firm that specializes in fighting ONLY on behalf of investors. With a 95% success rate, let us help you recover your investment losses today. Call now 1 888-628-5590 or visit InvestmentFraudLawyers.com to schedule a free consultation and learn how our experience can help you recover your investment losses. No recovery, no fee.
President Trump and a few governors are trying to re-open the country. The coronavirus numbers are flattening and now we are faced with the risk of opening too soon or losing our economy.  We suspect that the markets will jump up as states reopen, however, there could be another crash (15%) decline if the coronavirus cases suddenly increase…..Will the Fed be able to stop the BEARS from taking down the market?
In his daily update on the outbreak, Cuomo stated he believes social-distancing measures continue to ease the effect, but today isn't the time to unwind. Markets rallied to the close on small news. President Trump is expected to announce his recommendations to reopen the market in a media conference at 6 p.m. Eastern.
During his call with America's ss governors, President Trump reportedly said that some states would be allowed to open some businesses and schools before May 1.
President Trump told US governors on a conference call Thursday that some states would be able to reopen businesses and schools before May 1, when federal social distancing guidelines are set to expire.
Trump said some governors might want to take more time, conceding that some states are in rough shape, two people familiar with the call said. But he told the governors that the country is heading in the right direction. The president said he'll announce federal guidelines for states to lift stay-at-home orders and relax social distancing practices during his daily news conference at 6 p.m. He told the governors that they'd receive booklets with the guidelines.
While states like North Dakota, that is, states with only a few hundred cases and a handful of deaths, are pushing to reopen asap to stave off needless economic harm (which, as we've noted before, can often translate into harming of the physical/emotional variety), others, like California, are looking at a much longer timeline.
Meanwhile, Bill Gates is insisting that allowing a few states to reopen earlier would be nothing short of disastrous.
We imagine he'll have something to say about trump's comment.
South Korea is providing direct payments to families, and Japan is contemplating a similar step.
Today's Top Market Sectors
The best businesses now were health care, consumer discretionary, and technology. Taiwan Semiconductor (TSM) boosted the technology space after reporting strong results and giving solid advice. Abbott Labs (ABT) beat on both earnings and earnings, lifting the health care sector. The "stay-at-home" stocks continued to outperform, directed by Amazon (AMZN) and Netflix (NFLX).
The worst performing sectors were Industrials fell on the feeble Philadelphia Fed manufacturing results. Airlines weighed on the sector after United Airlines (UAL) said it expects its June scheduled flights to be down 90%. Energy fell alongside oil on demand anxieties.
In the S&P 500, six of the 11 sectors finished higher.
The laggards have been Energy -3.97 percent, Financials -1.76%, and Industrials -0.87 percent.
Oil -1.06% fell as OPEC warned of declining oil demand.
Gold -0.22percent diminished on dollar power.
Bitcoin +5.42% rebounded over $7,000.