KBS Real Estate Investment Trust II, a registered non-traded REIT, Park Avenue at Morris County, fire sold a Class A six-building office in Florham Park, New Jersey as part of a REIT liquidation. The transaction was reported as the largest multi-tenant, multi-tenant office sale since 2008.
Park Avenue at Morris County is 1.1 million square feet and was first purchased in fall of 2008 for a combined $365 million. Tenants include PricewaterhouseCoopers, BASF, and Day Pitney.
KBS REIT informed their investors in a letter last month that the properties were being sold for less than the value previously estimated.
"The value declined $56.3 million from the December 2018 appraised value due to various reasons," the letter stated. "Despite renovations to modernize the park, the addition of ample amenities and creative connectivity to rail via a proprietary shuttle service, certain institutional investors that would have previously been in the market for this asset have either too much exposure in suburban office or have moved away from suburban properties and thus did not pursue the asset."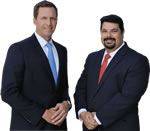 AD - Recover your investment losses! Haselkorn & Thibaut, P.A. is a national law firm that specializes in fighting ONLY on behalf of investors. With a 95% success rate, let us help you recover your investment losses today. Call now 1 888-628-5590 or visit InvestmentFraudLawyers.com to schedule a free consultation and learn how our experience can help you recover your investment losses. No recovery, no fee.
KBS REIT noted that "the asset is too large for small and medium-sized investors, who like the asset otherwise, but who cannot combine the funds without an institutional partner."
During its ownership, KBS completed a multi-million dollar renovation plan, which brought occupancy up to 89%.
As part of its improvement plan, KBS REIT provided several fitness amenities, new roofs, and HVAC units, updated lifts, security service, and a conference center.
KBS REIT also upgraded the building cafeteria, installed a coffee bar and wine in the lobby, and set up a food delivery service. KBS provided transport facilities, including car-electric stations and shuttle service with direct access to Madison Railway Station, Newark Liberty International Airport, and other destinations.
KBS REIT II shareholders/owners will shortly vote on the company's liquidation and dissolution plan at its annual meeting on 5 March 2020. The company expects the net receipts to be between $3.40 and $ 3.83 per share.
The board of KBS REIT reduced its net asset value (NAV) per share recently from $4.50 to $3.79, as of 30 September 2019. The REIT stated that the reduction in property values ​​at Park Avenue, Morris County, and the Union Bank properties.
The 201V NAV was $4.95 per share but was adjusted for a special distribution of $ 0.45 per share paid in June 2019. First shares were sold at $ 10.00 each.
KIT REIT II closed its main offer in December 2010 after raising $ 1.8 billion in investor equity.