Exxon Mobil stock prices are trading at a 52-week low, losing more than 6.5% in value since the publication of a weak quarterly report at the end of January. Earnings per share fell by 70% (YoY) to $0.41, below the expectations of analysts. Also, Goldman Sachs lowered its outlook for the stock, expecting a decrease in the profit margin of Exxon's business. In the previous week, the stock of Exxon Mobil grew by 0.93%. S&P500 went up by 1.82% within the same period.
Exxon Mobil Fire in Louisiana
In more bad news, a huge fire broke out this morning in the Exxon refinery in Louisiana.  The fire is contained and was not the result of an explosion.  There were not any reported injuries.
Jeremy Eikenberry, spokesperson for Exxon Mobil, said "Exxon Mobil volunteer fire team members have contained a fire at the Exxon Mobil Baton Rouge Refinery. There are no injuries. The fire was contained to the area where it occurred," he said.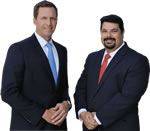 AD - Recover your investment losses! Haselkorn & Thibaut, P.A. is a national law firm that specializes in fighting ONLY on behalf of investors. With a 95% success rate, let us help you recover your investment losses today. Call now 1 888-628-5590 or visit InvestmentFraudLawyers.com to schedule a free consultation and learn how our experience can help you recover your investment losses. No recovery, no fee.
"Exxon Mobil is actively monitoring the facility fence line and surrounding areas of the North Baton Rouge community. Currently, all readings are non-detect. We will continue to conduct air monitoring as a precaution."
Crude Prices Are Up This Morning… Will Exxon Stock Follow?
On a more positive note, crude oil prices are slightly up today. This should cause Exxon Mobil's stock prices to go up as well. The increase in prices was caused by investors' hopes for the fading of the coronavirus epidemic in China, as the number of new patients decreased to a minimum since January 30.
However, growth may be short-termed, as the fundamental situation remains negative. OPEC has sharply lowered its forecasts of demand for "black gold" this year. It can be 0.99 million barrels per day, which is 0.23 million barrels per day less than the previous forecast.
An API report on energy reserves in the United States published yesterday recorded the growth of 6,000 million barrels. In the evening, the market awaits a corresponding statement from the EIA. It is expected that the reserves will grow by 2.987 million barrels, which will put pressure on quotes.
Powell's Congressional Testimony
Investors are focused on yesterday's speech by Jerome Powell in Congress. The head of the Fed spoke to the Committee on Financial Services of the House of Representatives with Semiannual Monetary Policy Report to the Congress and, in general, repeated theses already voiced earlier.
Trump attacked Powell on Twitter in the middle of his testimony, blaming him for a slight dip in the Dow that started during his House appearance.
"When Jerome Powell started his testimony today, the Dow was up 125, & heading higher. As he spoke it drifted steadily downward, as usual, and is now at -15. Germany & other countries get paid to borrow money. We are more prime, but Fed Rate is too high, Dollar tough on exports," President Trump tweeted.
Powell said the economy continues to grow at a moderate pace, and as long as this happens, monetary policy will not change. He also said that the Fed is monitoring the development of the situation with coronavirus in China, and noted that the US economy seems resistant to risks.
"The current low-interest-rate environment means that it would be important for fiscal policy to help support the economy if it weakens," Powell said Tuesday.
As one of the critical reasons for the stability of the US economy, Powell singled out strong labor market growth. However, the recent data on the number of open Job Openings and Labor Turnover Survey (JOLTS) vacancies make one doubt Powell's words.
The indicator falls, reaching 6.423 million in December, which is the worst indicator in the last two years.
Today, Jerome Powell will deliver a semi-annual report on monetary policy in the US Senate but is unlikely to tell the market anything new.
OXM Support and Resistance
Exon Mobil stock appears to stabilize after a significant bear trend. At the moment, #XOM shares are consolidating around $60. The stock is testing critical levels of support and resistance at 60.00 and 63.00.
Indicators are signally a strong Bear trend, but there is possible break out of the trend it you look at the 5MA and 8MA crossing the 13MA on the 15minute chart.
Exxon Mobil Stock Price Recommendations
Feb-03-20 Reiterated Cowen Market Perform $75 → $70
Feb-03-20 Downgrade Goldman Neutral → Sell $72 → $59
Jan-23-20 Downgrade Scotiabank Sector Perform → Sector Underperform $75
Nov-26-19 Resumed Piper Jaffray Neutral $83
Aug-21-19 Initiated BMO Capital Markets Market Perform
Aug-19-19 Initiated Barclays Equal Weight $73
Jul-18-19 Downgrade RBC Capital Mkts Outperform → Sector Perform $100 → $90
Apr-08-19 Initiated Tudor Pickering Hold
Apr-01-19 Initiated Morgan Stanley Equal-Weight $84
Mar-08-19 Downgrade Cowen Outperform → Market Perform $100 → $75
Feb-14-19 Upgrade Macquarie Underperform → Outperform $83
Nov-20-18 Downgrade Raymond James Mkt Perform → Underperform
Oct-23-18 Resumed Piper Jaffray Neutral
Sep-11-18 Initiated Berenberg Hold $84
May-30-18 Upgrade RBC Capital Mkts Sector Perform → Outperform
Apr-23-18 Upgrade Raymond James Underperform → Mkt Perform
Mar-15-18 Upgrade HSBC Securities Reduce → Buy
Mar-08-18 Reiterated Citigroup Neutral $84 → $81
Feb-06-18 Downgrade Barclays Overweight → Underweight $91 → $84
Feb-05-18 Reiterated Credit Suisse Neutral $84 → $80
Exxon Mobil 1 Day Moving Averages
Moving Averages
Name Value Action
Exponential Moving Average (5) 61.01 Sell
Simple Moving Average (5) 61.31 Sell
Exponential Moving Average (10) 62.03 Sell
Simple Moving Average (10) 61.83 Sell
Exponential Moving Average (20) 63.88 Sell
Simple Moving Average (20) 64.56 Sell
Exponential Moving Average (30) 65.10 Sell
Simple Moving Average (30) 66.36 Sell
Exponential Moving Average (50) 66.49 Sell
Simple Moving Average (50) 67.57 Sell
Exponential Moving Average (100) 68.30 Sell
Simple Moving Average (100) 68.49 Sell
Exponential Moving Average (200) 70.69 Sell
Simple Moving Average (200) 71.14 Sell
Ichimoku Cloud Base Line (9, 26, 52, 26) 65.49 Neutral
Volume Weighted Moving Average (20) 64.06 Sell
Hull Moving Average (9) 60.61 Sell