The Financial Industry Regulatory Authority (FINRA) regulators have fined and suspended two Cabot Lodge Securities LLC (Cabot Lodge), executives. FINRA issued the two separate letters of Acceptance, Waiver, and Consents (AWCs) because two executives were required to review Organization and Offering (O&O) expenses and Underwriting Compensation for any real estate investment trust public offering which the Cabot Lodge firm participated for compliance with the limits established by FINRA.
While there is no specific real estate investment trust (REIT) referenced in the AWCs, there was a $1 billion offering by a Cabot Lodge affiliate where Cabot Lodge or its affiliate served as a soliciting dealer for the IPO and took over as deal manager in September 2013. By that time, the underwriting compensation had already exceeded the limits under the FINRA rules.
Organizational and Offering Expenses Exceeded Rules
Per FINRA, the Organizational and Offering Expenses (O&O) expenses are deemed unreasonable if they exceed 15% of the gross proceeds of an offering, and if the Underwriting expenses exceed 10% of gross proceeds. The Cabot Lodge policies and procedures called for the investment banking manager to review the expenses and compensation for the REIT offering. Still, FINRA alleged there was no review or monitoring up until the close of the REIT IPO in February 2016. FINRA further alleged that (at least one of the executives) was aware that compensation levels had exceeded permissible limits by December 2014.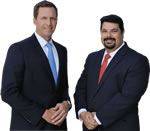 AD - Recover your investment losses! Haselkorn & Thibaut, P.A. is a national law firm that specializes in fighting ONLY on behalf of investors. With a 95% success rate, let us help you recover your investment losses today. Call now 1 888-628-5590 or visit InvestmentFraudLawyers.com to schedule a free consultation and learn how our experience can help you recover your investment losses. No recovery, no fee.
Before that, in July 2013, one of the executives submitted a plan to FINRA in an attempt to address the underwriting compensation overage. In that process, FINRA stated that the overage plan required Cabot Lodge's "compliance team meet with United Realty executives weekly to discuss expenses incurred in connection with the IPO and projected sales for the upcoming week." However, FINRA alleged that Cabot Lodge never implemented the steps outlined in the overage plan.
At the close of the offering in February 2016, the O&O expenses were $14 million, which exceeded the 15% limit by $6.6 million (on $49.7 million in gross proceeds raised, including $1.5 million through a distribution reinvestment plan). Similarly, the underwriting compensation was nearly $7.7 million, which exceeded the 10% limit by more than $2.8 million. FINRA said that Cabot Lodge never reimbursed the REIT for the excess amounts. One executive was issued a $10,000.00 fine and a two-month suspension, and the other was fined $20,000.00 and was suspended for 90 days.
United Realty Trust Name Changed to First Capital Real Estate Trust
While the name of the REIT was not explicitly referenced, Cabot Lodge was named dealer manager for United Realty Trust, a non-traded REIT in September 2013 (after serving as soliciting dealer). According to SEC filings by United Realty Trust, Cabot Lodge Securities did business as United Realty Securities, which was indirectly owned by the REIT's sponsor, United Realty Advisor Holdings.
In October 2015, United Realty Trust changed its name to First Capital Real Estate Trust. First Capital had contributed real estate and other assets, as well as purchased the advisor and property manager interests, along with other aspects of the transaction.
Florida investment fraud lawyer, Matthew Thibaut, Esq., a partner with Haselkorn & Thibaut, "… my office has received calls from investors in First Capital Real Estate and similar non-traded REIT investments complaining of investment losses." According to Attorney Thibaut (mthibaut@htattorneys.com), non-traded Real Estate Investment Trusts (REITs) are generally considered "high-risk" securities/investments and recommendations of these investments to seniors, elderly, retirees, or near-retirees can be problematic for financial advisors.
FINRA Complaints on REITs & BDC Investments
For example, in one recent case, the (FINRA) Department of Enforcement filed a recent complaint against Mercer Hicks III (aka Toby Hicks), a broker in Charlotte, NC, with Southeast Investments, N.C., Inc. alleging unsuitable recommendations to five senior customers. Between June 2014 and July 2017, Mr. Hicks recommended that investors buy speculative non-traded REIT and BDC investments according to FINRA allegations. Mr. Hicks also allegedly failed to conduct reasonable due diligence on the REITs and BDCs and was unable to understand the risks and features associated with those investments before recommending them to his customers.
According to FINRA, the prospectuses and Subscription Agreements for the investments stated they were not suitable investments for investors who required immediate liquidity, guaranteed income, or short-term investments, and they were only appropriate for those investors who can afford a complete loss of their investment. The FINRA allegations further note that none of the five investors were looking for speculative, high-risk investments, they were between ages 73 to 87 years old, and none of them were still working. Their account documents indicated they were interested in preserving their capital or trying to let their capital appreciate.
Finally, the FINRA allegations note that some of the elderly customers had trouble liquidating the investments to obtain funds they needed to pay for medical care.
FINRA alleges these recommendations demonstrated a failure to conduct due diligence on the investments in violation of FINRA Rules 2111 and 2010. FINRA Rule 2111 requires the firm or associated person have a reasonable basis to believe a recommended transaction or investment strategy is suitable for the customer based on the information obtained via reasonable diligence on the part of the firm or associated person to ascertain the customer's investment profile.
Although this could be viewed as a message that FINRA regulators are not content to give a firm or associated person a free-pass on these investment products just because the customer was convinced to sign paperwork, it could also be in part an issue related to Mr. Hicks, who has a total of nine disclosures on his FINRA Brokercheck report including five judgment/lien disclosures, the above mentioned FINRA investigation, along with three different employment separation disclosures.
According to a Cohen and Steers report, only approximately 25% of non-traded REITs between 1990 and 2018 outperformed listed REIT investments. With these kinds of statistics, risks, and expenses, a full, fair, balanced disclosure by a financial advisor better offer a lot more than simply an opportunity to add some diversification – especially when that recommendation typically involves a concentrated position in a single sponsor, single investment with a unique strategy in a single market sector. The unfortunate tangled web of inadequate disclosure, complexity, and unscrupulous sales practices catches up with too many investors. If these investments include funds you cannot afford to lose, or the answers you are getting are at best fuzzy or sound too good to be true, investors should stay away, or risk was wishing they had later on down the road. To the extent there is any purported goal being served or perceived problem being solved by a financial advisor recommending these investments, there are ample opportunities available in the public markets.
How to Get Compensation for Your Investment Losses
If you are an investor, or loved one, who purchased non-traded REITs or Non-Traded BDCs and you have incurred losses (or if you are aware of a senior investor who did the same), you should consider your potential options for recovering your investment losses. At least one option for some investors includes a Financial Regulatory Authority (FINRA) customer dispute. The customer dispute process at FINRA is private and quicker and more efficient than traditional court litigation. Also, there are typically no depositions, as it is almost entirely paper-based discovery. You should contact experienced attorneys who might be able to assist you with these types of disputes.
About Haselkorn & Thibaut (InvestmentFraudLawyers.com)
Haselkorn and Thibaut, P.A. is a nationwide law firm specializing in handling investment fraud and securities arbitration cases. The law firm has offices in Palm Beach, Florida, on Park Avenue in New York, as well as Phoenix, Arizona, and Cary, North Carolina. The two founding partners have nearly 45 years of legal experience. They have filed numerous (private arbitration) customer disputes with the Financial Industry Regulatory Association (FINRA) for customers who suffered investment losses relating to issues similar to those matters mentioned above. There are typically no depositions involved, and those cases are usually handled on contingency with no recovery, no fee terms.
Experienced security fraud attorneys at Haselkorn & Thibaut, are available for a free consultation as a public service. Call today for more information at 888-628-5590 or visit their website.