Johnson & Johnson stock shares (NYSE:JNJ) closed last week at a new 52-week high, adding more than 6% in value since early December. The stock quotes are supported by an increase in recommendations for 2020 from Morgan Stanley. The company also announced plans to acquire Taris Biomedical LLC in the first half of next year. In the previous week, the stock of Johnson & Johnson grew by 3.31%. S&P500 index went up by 1.65% during the same period.
Markets remain focused on US-China trade relations. Today, the Chinese Ministry of Finance announced a reduction in import duties on more than 850 goods since January 1. According to an official statement, its goal is to increase imports of goods the country lacks but experts see it as preparation for signing the first phase of a trade agreement between the United States and China. US President Donald Trump sends positive signals to the market. On Friday, he announced a positive conversation with Chinese President Xi Jinping and that China had already begun to purchase American agricultural products, and on Saturday confirmed that the deal would be signed "very shortly".  During the day, investors are waiting for the release of Durable Goods Orders, which can accelerate growth from 0.5% to 1.5%, as well as data on New Home Sales: the indicator can grow from 733K to 734K.
Today, oil quotes have very mixed trading. Morning decline was replaced by rising quotes.  Prices are supported by the fact that investors expect a relaxation in relations between the US and China and the imminent formal signing of a trade deal. The warming between the leading world economies is evidenced by the reduction in China's duties on a number of imported goods, including pork, medicines and spare parts for electronic devices. A report released on Friday by Baker Hughes recorded a significant increase in the number of operating oil rigs in the US from 667 to 685 units, which put temporary pressure on oil quotes at the beginning of the day.
Contents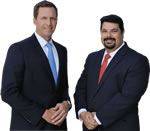 AD - Recover your investment losses! Haselkorn & Thibaut, P.A. is a national law firm that specializes in fighting ONLY on behalf of investors. With a 95% success rate, let us help you recover your investment losses today. Call now 1 888-628-5590 or visit InvestmentFraudLawyers.com to schedule a free consultation and learn how our experience can help you recover your investment losses. No recovery, no fee.
Johnson & Johnson Stock Support and Resistance
The company's shares show a steady uptrend. #JNJ quotes reached key extremes. Currently, the emitter is testing the resistance level of 147.00. 143.00 is a "mirror" support level. The instrument has the potential to further growth. Indicators show the strength of the buyers: the price has consolidated above MA(50) and MA(200); MACD is in the positive zone. Positions are to be opened from key levels. Comparing company's multiplier with its competitors in the industry, we can say that #JNJ shares are neutral. Support levels: 143.00, 140.00, 138.50. Resistance levels: 147.00, 149.00.
If the price consolidates above the resistance level of 147.00, one should expect the company's shares to grow. Potential profits should be locked in by orders at 150.00, 153.00, and 155.00. Stop-loss – 144.00. If the price consolidates below 143.00, one may consider selling #JNJ. The moving potential is aimed at the area of 138.00–135.00. Stop-loss – 146.00. Implementation period: 3 days.
Johnson & Johnson Stock Pivots
Pivot Classic Fibonacci Camarilla Woodie DM
S3 117.37 126.32 135.03 124.30 —
S2 126.32 129.74 135.85 126.99 —
S1 131.90 131.85 136.67 133.25 133.59
P 135.27 135.27 135.27 135.94 136.11
R1 140.85 138.69 138.31 142.20 142.54
R2 144.22 140.80 139.13 144.89 —
R3 153.17 144.22 139.95 151.15 —
Johnson & Johnson Stock Recommendation
Dec-19-19 Upgrade Barclays Equal Weight → Overweight $173
Dec-17-19 Upgrade Morgan Stanley Equal-Weight → Overweight $145 → $170
Nov-20-19 Initiated Cantor Fitzgerald Overweight $160
Oct-16-19 Upgrade Atlantic Equities Underweight → Neutral
Oct-11-19 Upgrade Bernstein Mkt Perform → Outperform $155
Jul-12-19 Resumed Credit Suisse Outperform $156
May-28-19 Initiated Goldman Buy
Jan-23-19 Reiterated Barclays Equal Weight $137 → $135
Jul-12-18 Upgrade Goldman Sell → Neutral
Jun-27-18 Initiated Bernstein Mkt Perform $129
Apr-23-18 Reiterated Citigroup Neutral $146 → $134
Apr-18-18 Reiterated Stifel Hold $145 → $135
Jan-24-18 Reiterated Stifel Hold $142 → $145
Jan-12-18 Reiterated Wells Fargo Outperform $155 → $160
Jan-02-18 Downgrade JP Morgan Overweight → Neutral
Oct-18-17 Reiterated Stifel Hold $140 → $142
Oct-18-17 Reiterated RBC Capital Mkts Outperform $144 → $147
Oct-18-17 Reiterated Leerink Partners Outperform $150 → $165
Oct-16-17 Reiterated Jefferies Buy $157 → $160
Oct-11-17 Upgrade Jefferies Hold → Buy
Johnson & Johnson Stock 1 Day Moving Averages
Name Value Action
Exponential Moving Average (5) 144.26 Buy
Simple Moving Average (5) 143.99 Buy
Exponential Moving Average (10) 142.75 Buy
Simple Moving Average (10) 142.41 Buy
Exponential Moving Average (20) 140.52 Buy
Simple Moving Average (20) 140.28 Buy
Exponential Moving Average (30) 138.88 Buy
Simple Moving Average (30) 138.04 Buy
Exponential Moving Average (50) 136.80 Buy
Simple Moving Average (50) 135.11 Buy
Exponential Moving Average (100) 135.02 Buy
Simple Moving Average (100) 132.71 Buy
Exponential Moving Average (200) 134.61 Buy
Simple Moving Average (200) 135.15 Buy
Ichimoku Cloud Base Line (9, 26, 52, 26) 138.99 Neutral
Volume Weighted Moving Average (20) 140.77 Buy
Hull Moving Average (9) 145.57 Buy