Earlier, Bank of America Merrill Lynch analyst Timna Tanners lowered the forecast (from neutral to underperform) for the company's shares reporting a cautious view on aluminum pricing and valuation.  The top of all investor minds are concerns about the development of the US-China trade relations which will have a "huge" effect on the stock price.
Although Alcoa is aluminum, we believe it can be somewhat correlated to steel.  The US steel prices prices are expected to decrease dramatically by 2022 as supply is projected to increase. This will create a "Steelmageddon," coined by Tanners.  Steel stock investors and investors should be aware there could be drastic changes in prices, which will affect steel companies' bottom line.
Timna Tanners Sees 'Steel-Mageddon' Video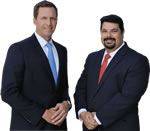 AD - Recover your investment losses! Haselkorn & Thibaut, P.A. is a national law firm that specializes in fighting ONLY on behalf of investors. With a 95% success rate, let us help you recover your investment losses today. Call now 1 888-628-5590 or visit InvestmentFraudLawyers.com to schedule a free consultation and learn how our experience can help you recover your investment losses. No recovery, no fee.
The other thing worrying investors is the global economic cool down is also affecting the stock as whole. Manufacturing and business stocks are showing weakness. Alcoa shares are trading at a one-month low, showing a correctional decline of 11.3% from a three-month high of November 5. Since the beginning of the year, the emitter's quotes lost more than 22.5%. We do expect positive movement if there is a trade agreement or agreement on the trade agreement with US China. Over the past week, Alcoa shares showed a 1.58% decrease in value. S&P500 declined by 0.32% within the same period.
Support and resistance
The stock of the company is showing an ambiguous technical picture. The emitter is trading within the flat market. At the moment, the following local levels of support and resistance can be distinguished: at 20.00 and 21.60, respectively. #AA shares have the potential for decline. Indicators don't give a clear signal: the price has crossed MA(50) and MA(200), and MACD histogram is located near zero level. Positions are to be opened from key levels. Comparing the company's multiplier with its competitors in the industry, we can say that #AA shares are neutral.
Support levels: 20.00, 18.30, 16.75.
Resistance levels: 21.60, 23.30, 24.50.
Pivot Classic Fibonacci Camarilla Woodie DM
S3 13.08 16.67 19.80 15.65 —
S2 16.67 18.03 20.13 16.92 —
S1 18.73 18.88 20.46 19.24 19.49
P 20.25 20.25 20.25 20.50 20.63
R1 22.31 21.62 21.12 22.82 23.07
R2 23.83 22.46 21.45 24.09 —
R3 27.42 23.83 21.78 26.41 —
Alcoa Stock (AA) Trading Ideas
If the price consolidates below 20.00, #AA quotes may decline. Potential profits should be locked in by orders at 18.50, 17.00, and 16.00. Stop-loss – 21.50. If the price consolidates above 21.60, buying #AA should be considered. The moving potential is aimed at the area of 24.00–25.50. Stop-loss – 20.10. Implementation period: 3 days.
Alcoa Stock (AA) 1 Day Moving Averages
Exponential Moving Average (5) 20.62 Buy
Simple Moving Average (5) 20.48 Buy
Exponential Moving Average (10) 20.84 Sell
Simple Moving Average (10) 20.84 Sell
Exponential Moving Average (20) 21.01 Sell
Simple Moving Average (20) 21.43 Sell
Exponential Moving Average (30) 20.97 Sell
Simple Moving Average (30) 21.16 Sell
Exponential Moving Average (50) 20.88 Sell
Simple Moving Average (50) 20.77 Sell
Exponential Moving Average (100) 21.36 Sell
Simple Moving Average (100) 20.64 Buy
Exponential Moving Average (200) 23.91 Sell
Simple Moving Average (200) 23.37 Sell
Ichimoku Cloud Base Line (9, 26, 52, 26) 21.69 Neutral
Volume Weighted Moving Average (20) 21.56 Sell
Hull Moving Average (9) 20.31
Alcoa Stock (AA) 1 Day Oscillators
Relative Strength Index (14) 47.44 Neutral
Stochastic %K (14, 3, 3) 14.88 Buy
Commodity Channel Index (20) −62.15 Neutral
Average Directional Index (14) 13.22 Neutral
Awesome Oscillator −0.32 Sell
Momentum (10) −1.48 Sell
MACD Level (12, 26) −0.09 Sell
Stochastic RSI Fast (3, 3, 14, 14) 17.87 Neutral
Williams Percent Range (14) −75.86 Neutral
Bull Bear Power −0.61 Neutral
Ultimate Oscillator (7, 14, 28) 44.90 Neutral
Alcoa Stock (AA) 1 Day Recommendations
Nov-13-19 Downgrade BofA/Merrill Neutral → Underperform $21
Nov-12-19 Reiterated B. Riley FBR Buy $26 → $28
Nov-07-19 Resumed Morgan Stanley Equal-Weight $25
Oct-21-19 Downgrade Gabelli & Co Buy → Hold
Sep-26-19 Reiterated B. Riley FBR Buy $34 → $27
Sep-23-19 Downgrade Goldman Buy → Neutral $30 → $25
Sep-11-19 Upgrade Credit Suisse Neutral → Outperform $26 → $27
Aug-16-19 Reiterated BofA/Merrill Neutral $25 → $20
Jul-19-19 Downgrade Argus Buy → Hold
Jul-11-19 Downgrade Deutsche Bank Buy → Hold $35 → $23
Jul-09-19 Downgrade Macquarie Outperform → Neutral $34 → $25
Apr-22-19 Upgrade Gabelli & Co Hold → Buy
Apr-03-19 Downgrade BofA/Merrill Buy → Neutral $45 → $31
Apr-02-19 Downgrade Credit Suisse Outperform → Neutral $40 → $31
Jan-14-19 Upgrade Goldman Neutral → Buy
Dec-20-18 Reiterated B. Riley FBR Buy $50 → $49
Sep-25-18 Reiterated Credit Suisse Outperform $65 → $58
Sep-21-18 Initiated Berenberg Buy $54
Sep-12-18 Upgrade B. Riley FBR Neutral → Buy $48 → $50
Jul-19-18 Reiterated Credit Suisse Outperform $69 → $65