The Retail Sector has always been a dynamic investment field with the potential for rich returns, especially with strong consumer spending boosted by inflation. The robust performances of Walmart, Lowe's Companies, and TJX Companies showcase their shared strengths as blue-chip status, market dominance, consistent dividends, and ability to deliver value consistently. Exploring these commonalities and each company's unique strategies to thrive in the sector provides insights into potentially lucrative investment opportunities.
Key Points
1. Walmart, Lowe's, and TJX Companies are all performing well in retail. Walmart remains the leading retailer, outperforming estimates and continuing to grow its market share. Lowe's, which offers value and high dividend growth, is also proving to be a strong option in the sector. Off-price retailers, such as TJX, are also proving successful in the market, outperforming estimated growth and expanding their dividend payments and share buybacks.
2. On the back of strong Q2 results, Lowe's is emerging as a preferable investment option over Home Depot. Home Depot pays out more of its earnings in dividends and has a higher yield. However, Lowe's has a higher distribution CAGR and a more promising second half of the year expected.
3. Off-price retailers, with TJX Companies leading the charge, are capitalizing on gains in home goods and apparel, sectors where Target and Walmart have been losing ground. Furthermore, TJX has paid a distribution every quarter since 1999, making it a potentially stable and profitable investment.
Invest Smarter: The Surprising Two Over Walmart
Sometimes slow and steady doesn't just win the race; it runs laps around the competition. Here's a fresh look at the competitive landscape of retail giants.
Few corporate behemoths invoke the same sense of respect as Walmart (NYSE: WMT). As the world's premier retailer, its size, scale, and ability to pivot rapidly amid shifting consumer preferences have cemented its status as a formidable market leader. But what if I told you that the shadow could be mightier than the giant when it comes to investing? Intrigued? Me too. Let's delve into our unconventional approach.
Walmart: Unmistakable But Missing the Beat
There's no denying that Walmart is a Dividend King. A solid yield of 1.45% pairs nicely with good traditions like mom's apple pie and baseball but doesn't light a fire like the crowd-favorite chili cook-off. Erring on the side of caution, just like our mothers' advice on not swimming right after eating. Its Q2 results remind us of the freshman who outperforms everyone else's expectations with a robust combination of Sam's Club wealth and mainstay retail success whilst creating a red-carpet welcome for meatier dividends down the line.
Yet, the high yield-seeking investor might find Walmart's payout less scrumptious than a Thanksgiving turkey. But fret not, we've got you covered with a couple of dark horses stealing the show.
Lowe's: The Unanticipated Dividend Artist
First up, Lowe's (NYSE: LOW). Though initially surprising, this bad boy trades at a discount to its arch-rival, Home Depot(NYSE: HD). A cursory glance at HD's dividends might have you reaching for your checkbook – it yields a tad more (60 bps, to be exact) and exhibits a slightly cloudy outlook, thus stirring up the investment pot.
However, Lowe's is like the quintessential golden boy of dividend growth, outperforming Home Depot effortlessly, weaving an irresistible tapestry of value propositions for investors. This Dividend King has been upping its game, bracing for more significant growth in the second half of the season, flipping the script entirely.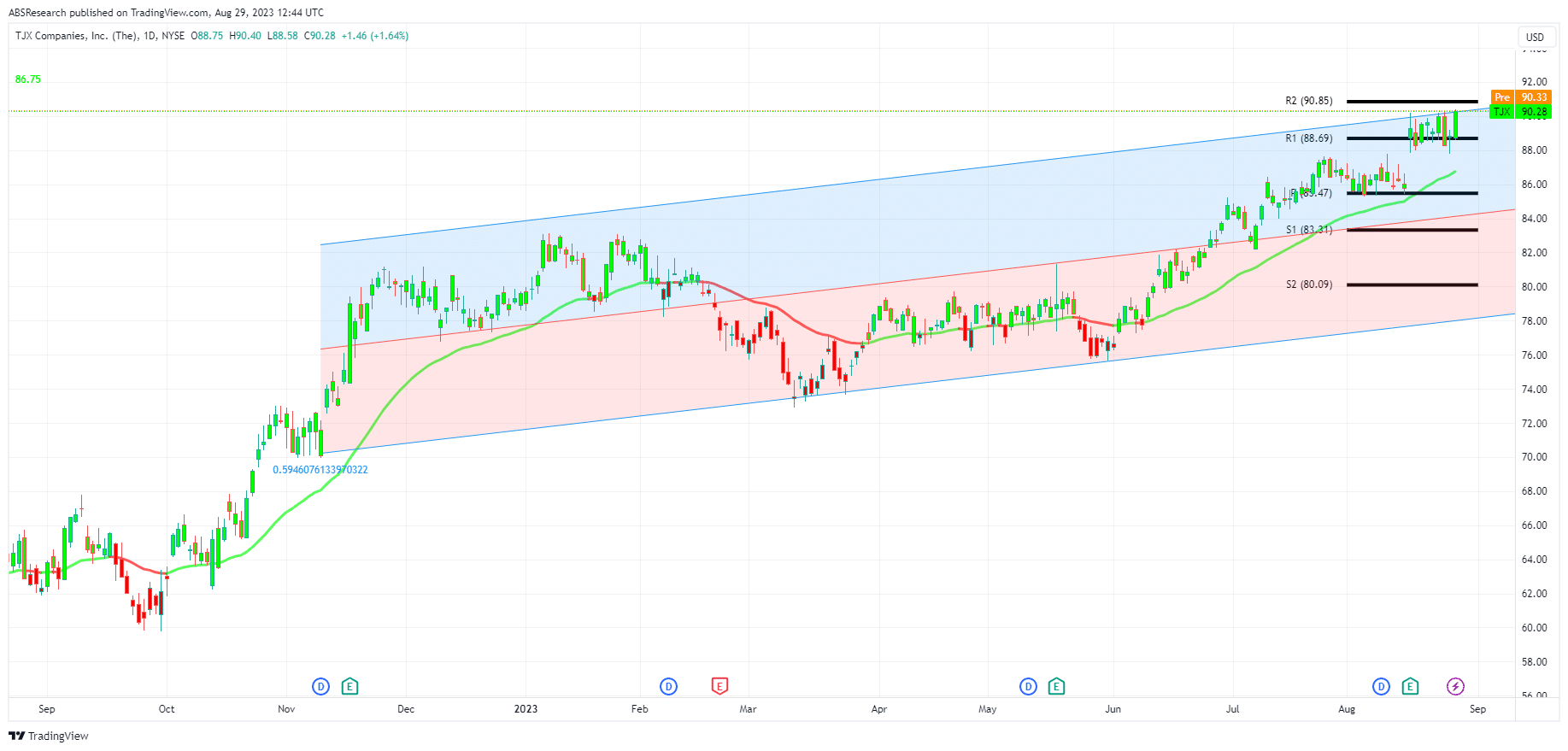 TJX Companies: Turning Pennies into Profit
It's high time we blew the lid off the retail world's best-kept secret, TJX Companies (NYSE: TJX). This underdog follows the golden rule – retail is detail – and tosses a curveball right at Target. Facilitating consistent growth in home goods and apparel (oh, the irony!), TJX pours us a concoction that merges retail triumph with a hint of playful disregard for convention.
Though the company's dividend history might seem like a hurdle race instead of a straight track as compared to WMT and LOW, it has paid a distribution every quarter since May 1999, barring the lone COVID-19 year. Sure, the pandemic may have dampened spirits momentarily, but looking at where the TJX share price stands today, this gamble seems to have paid off handsomely.
Concluding Thoughts: Investing Right in Retail
The ability to sniff out the big winners in the retail sector isn't about sticking to textbook strategies but more about foreseeing potential and taking calculated risks. The clear lesson is that every investor's journey should be about finding value while others don't.
With the likes of Walmart, Lowe's, and TJX under consideration here, their shared traits are worth noting: global recognition, higher-than-expected performance, formidable market presence, reliable dividends, and consistent delivery of value.
These nuggets of wisdom are sure to kickstart that stock-picking genius tucked away inside you. Happy investing!
Free AlphaBetaStock's Cheat Sheet (No CC)!
+ Bonus Dividend Stock Picks